How to install an Intel or AMD CPU in your computer
The beating heart of any PC is its central processing unit.
As with Intel's stock cooler, AMD's cooler will also come with thermal material on its underside from the factory. The big difference between Intel's and AMD's stock cooling solutions is that while Intel's mounts with push-pins, AMD's mounts with a more traditional notch-and-lever combination.
Start by hooking the mounting bracket on the cooler on to the plastic notch at the top end of the CPU socket. Then hook the bracket onto the notch at the opposite end of the socket. From here you can toggle the locking lever to press the heatsink up against the CPU and hold the heatsink firmly to the motherboard. Hooking both of the plastic notches with the heatsink mounting bracket is the most difficult part of this installation process.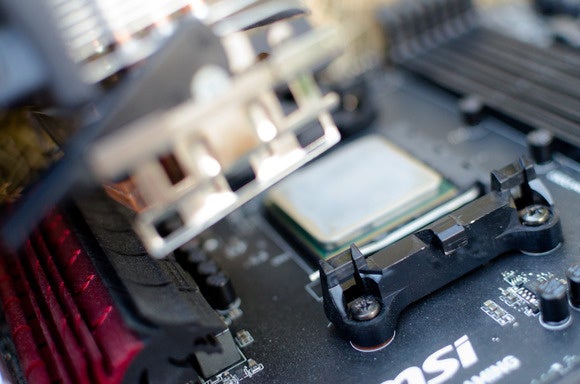 You have to hook the cooler's bracket over the plastic notches on the cooler mounts at either side of the processor's socket on the motherboard. Credit: Thomas Ryan
Now you've successfully picked out the right CPU for your PC build and you've correctly installed it into your motherboard. Your computer's not done yet, but you've taken a big step on the road to computing nirvana.
Previous Page 1 2 3 4