How to install an Intel or AMD CPU in your computer
The beating heart of any PC is its central processing unit.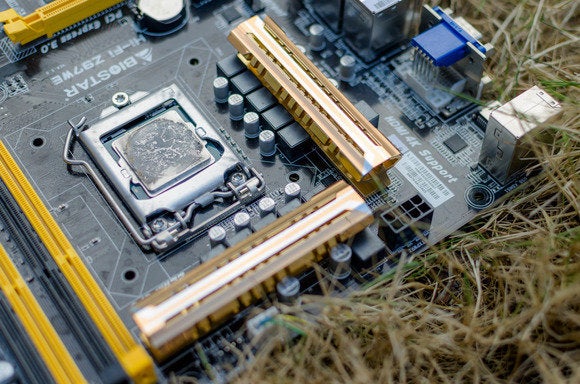 Thomas Ryan
When the CPU's installed, it's time to attach the cooler. If you're using the stock Intel cooler there will already be thermal grease on the underside of the heatsink. If you're using an aftermarket cooler, then you'll need to apply a small rice-grain-sized dot of thermal grease—your cooler likely came with a small syringe of it—to the center of the CPU before you set the heatsink on top of it.
One of the nice things about Intel's stock heatsink is that it uses push pins to attach itself to the motherboard. Simply place the cooler on top of your CPU and then press the push pins into the holes at each corner of the socket. Once the pins have been pushed through to the other side of the motherboard, press the black locking tab down into the mounting pin and twist it toward the center of the CPU, following the arrow engraved into the push pin, to lock the heatsink into place.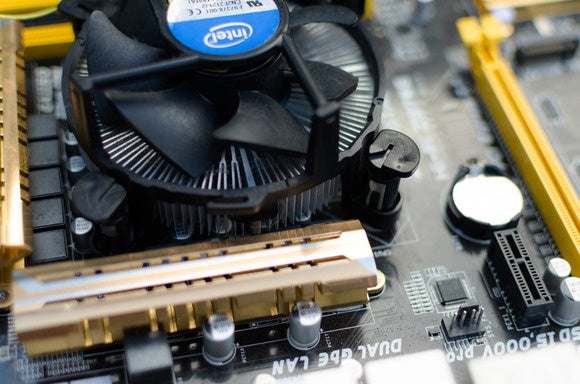 Thomas Ryan
The final step is to connect the fan header wire leading from your CPU to the CPU fan header on your motherboard.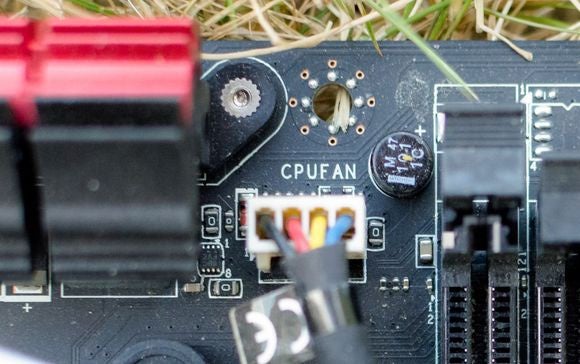 Don't forget to connect the cooler's fan to your motherboard! Credit: Thomas Ryan
For aftermarket coolers this process can be more complex and potentially involve custom heatsink retention brackets and mounting solutions. It's best to follow the manufacturer's instructions and refer to the relevant YouTube videos for guidance with those products.
How to install an AMD CPU
AMD's chips have both a different kind of socket and a different method of mounting heatsinks compared to Intel's system.
Looking at a fresh socket FM2+ motherboard, you'll see that there are no metal pins on AMD's socket. Rather, the pins that connect the CPU to the motherboard are on the underside of the CPU with AMD's chips.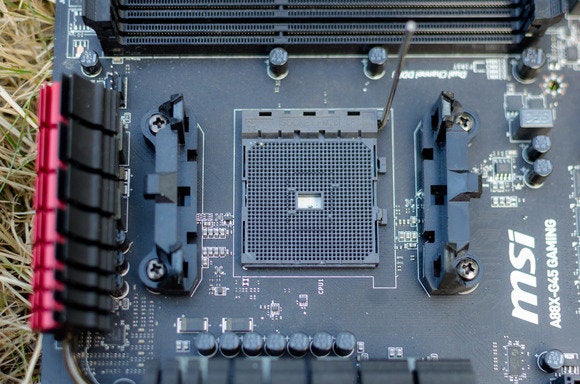 AMD's FM2+ socket. Credit: Thomas Ryan
Start by flipping the CPU locking lever up from the socket. Then you can place your AMD CPU in the socket in such a way that the gold triangle on the corner of your chip matches up with the engraved triangle on the corner of the CPU socket. A light press should then seat your CPU firmly in the socket. Lower the retention lever on the side of the socket to lock your chip into place.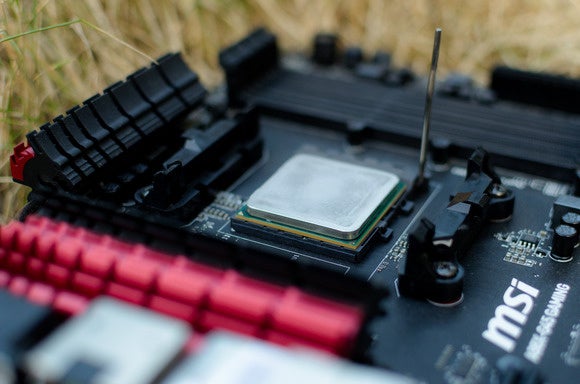 Thomas Ryan
Previous Page 1 2 3 4 Next Page