How to install an Intel or AMD CPU in your computer
The beating heart of any PC is its central processing unit.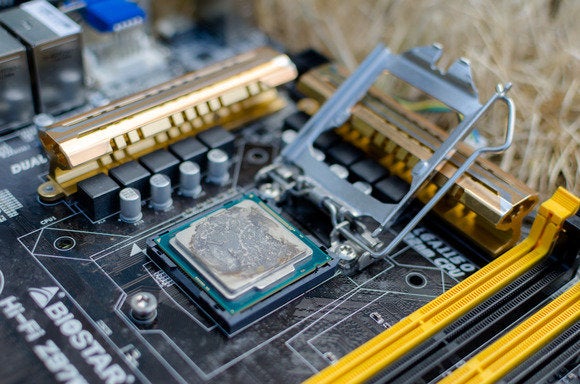 The beating heart of any PC is its central processing unit.
Since the dawn of the Internet era, having a fast CPU has been a point of pride for many enthusiasts—and a must have for anybody looking to get intensive work done. In recent years, upgrading to a bleeding-edge CPUs has become less important in light of ever-faster graphics cards and the experience-altering goodness of SSDs, mixed with slowing CPU performance gains generation-to-generation. But don't let that fool you: The CPU remains one of the most important parts of your PC.
With so much on the line, you want to get it right. Here's a quick overview to picking the right CPU for you, and instructions on how to actually install a processor in your PC.
Choosing a new CPU
Choosing the right CPU for your PC can be complex process, but if you start with a solid idea of what your budget is and what your goals are then you can make a decision pretty quickly. Let's start at the high-end and work our way down.
Intel's Core i7-5820K is a $390 six-core "Haswell-E" chip that's based off of Intel's Xeon server chips and uses the high-end LGA 2011-v3 socket. Spending more money will get you a CPU that's only marginally faster; thus this chip represents our most expensive recommendation for people without very specific needs that require additional computing firepower.
Moving to the next step down, there's Intel's Core i7-4790K at $340. This chip has only four cores but it also has an extra 500MHz of clock speed over the i7-5820K and will occasionally outperform the more expensive chip in games and apps because of it. At $240, we have Intel's Core i5-4690K which loses a bit of clock speed and hyper threading compared to the i7-4790K. The Core i5-4690K is the best compromise between price and performance on the market, and the chip gamers should pick up if they can afford it.

From left to right we have a 2nd gen Core i7-2700K, a 4th Core i7-4790K, the 6th gen Skylake an the gigantic Haswell-E Core i7-5960X chip. Credit: Gordon Mah Ung
But if you can't quite fit that chip into your budget you can step down to AMD's FX-8320 which is a very capable chip at $140. Stepping all the way down to the bottom of the bin we have AMD's $75 Athlon X4 860K, which is essentially one of AMD's APUs, minus the graphics bits.
We recommend going with AMD's chips if you have less than $200 to spend on a CPU because of the plethora of inexpensive but well-featured motherboards on designed for those chips. Additionally, AMD's chips retain many of the features—like cryptographic acceleration and virtualization—that Intel disables on its cheaper Core i3 and Pentium chips.