How to get the best seats in your house
A simple formula will tell you just how far back you should sit from your big-screen TV to get the absolute best viewing experience.
To get an idea of what you lose, consider these two images (click the photo below for more detail). The top image is the full resolution. The bottom image is the same picture, reduced to a quarter of its resolution, then upscaled back to its original size. This roughly shows what you'd get with an image shot with a 4K camera that's reduced to a 1080p stream or Blu-ray and then shown on a 4K TV.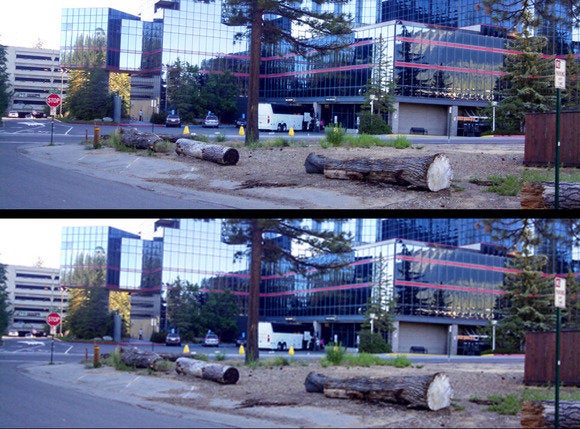 Upscaling from a lower resolution to 4K can't add any visual information that's not in the image to begin with.
Note the grooves in the log in the foreground, and the mirrored windows in the casino hotel in the background. You'll see much more detail in the top photo. (If you're wondering, the photo was taken in South Lake Tahoe. One side of the street is California; the other Nevada.)
You therefore might want to keep your chair a bit farther from the TV than is optimal for using all that the television can deliver. Or, if the chair is light enough, you can always move it back and forward.
Television health issues
Despite what your parents told you, sitting too close to the TV isn't bad for your eyes or your health.
Decades ago, the medical community had legitimate worries about x-radiation from televisions. But these problems were largely fixed by the late 1960s, and they became completely irrelevant as CRTs disappeared. According to the FDA, "flat panel TVs incorporating Liquid Crystal Displays (LCD) or Plasma displays are not capable of emitting x-radiation."
But what about eye strain? According to Dr. Lee Duffner of the American Academy of Ophthalmology, "sitting too close to a TV will not damage your eyes but it may cause eyestrain."That problem that can be cured by a good night's sleep.
My own ophthalmologist, Richard L. Litwin of the Berkeley Ophthalmology Medical Group, has a simple rule: "Any distance that does not invoke discomfort is OK."
But that's not to say that watching TV is a healthy activity. Time spent sitting or reclining is time that you're not getting physical exercise.
I know. You just want to sit back, relax, and watch TV. You don't want to fiddle with spreadsheets, pull out a measuring tape, and calculate degrees into inches. And you certainly don't want to be told that you need more exercise.
You're best off mixing these numbers and calculations with a little common sense—and your own taste in what looks good to you personally. No one told me that I should sit way down front in a movie theater. In fact, people have been telling me not to so for most of my life.
I don't listen to them.
Previous Page 1 2 3 4