How to get the best seats in your house
A simple formula will tell you just how far back you should sit from your big-screen TV to get the absolute best viewing experience.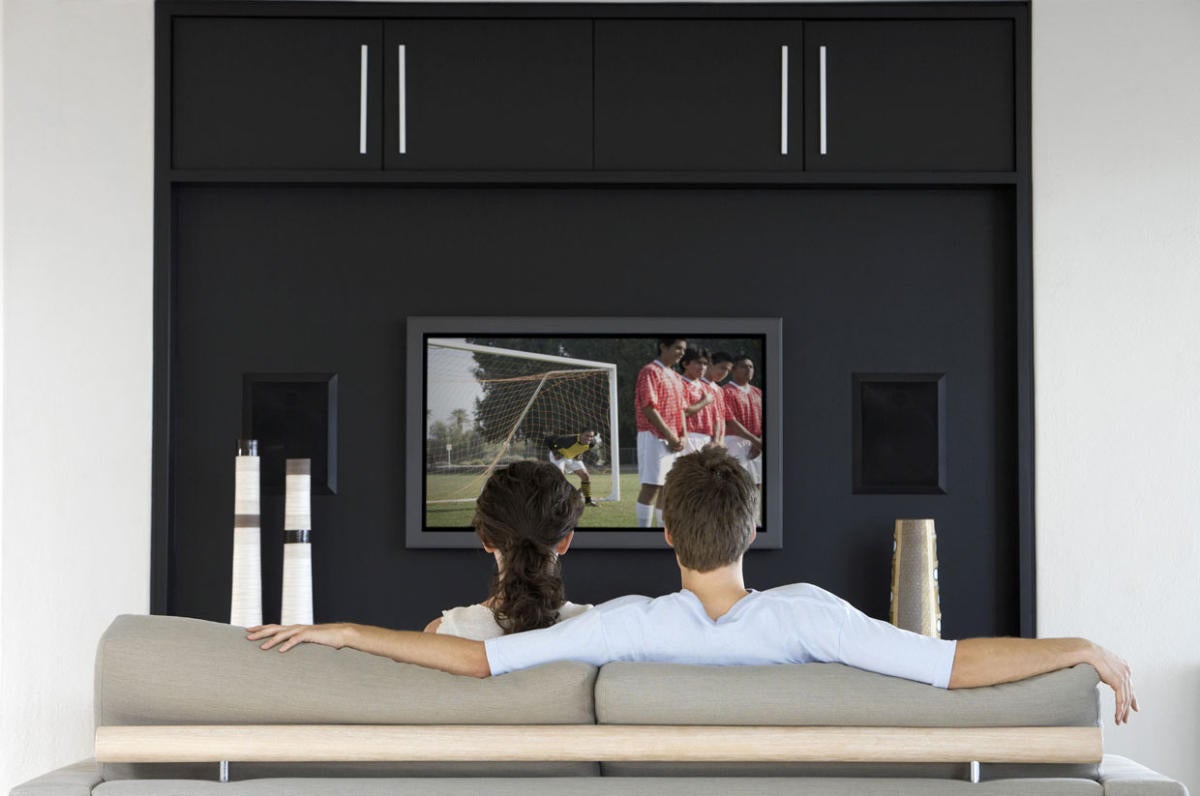 The whole point of investing in a home theater is to duplicate the experience of going to a commercial movie theater. Spending in excess of $100,000 for gear and construction in that endeavor is not unheard of; neither is it absolutely necessary. We'll show you a simple formula that will maximize at least part of your home-theater experience: How far from your TV or projector screen should you sit in order to enjoy the best performance?
When I go to a movie theater, I like to sit really close to the screen—usually in the third row. For a truly immersive movie—something like Gravity—I'll often sit closer. I want the image to overwhelm my optic nerves.
I don't have that option at home with my 50-inch HDTV. I'd be so close to the screen that I couldn't stretch my legs. Besides, sitting that close would ruin both the picture and the sound.
In a theater, if you feel that you're too close—or too far back—you can go to another row. In your home, moving closer or farther away requires rearranging the furniture.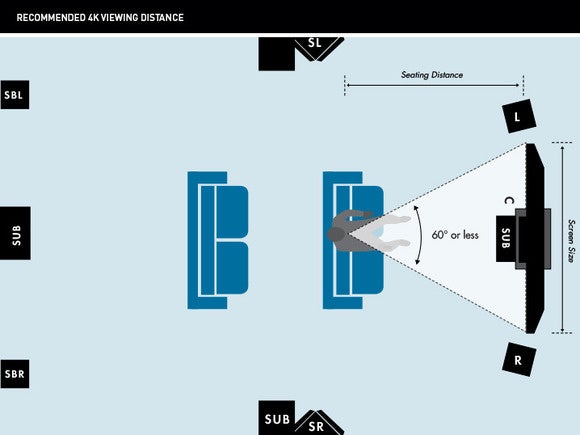 This diagram shows the audio and video sweet spot for this particular home theater, which has a 4K TV (although we're having difficulty imagining what that room would sound like with three subwoofers). Credit: THX
So it's important to pick a good distance and to stick with it. But deciding where you want to sit can be complicated. Sit too far back, and you lose the details that you paid for when you bought your HDTV (even more so if you sprung for 4K). Sit too close, and the pixels become visible and distracting. So you have to find that happy medium.
Setting the distance for a 1080p HDTV
For the moment, let's stick to 1080p HDTVs. I'll discuss 4K Ultra HDTVs soon enough.
Every digital image is made up of a grid of colored dots or squares called pixels (short for picture elements). A 1080p HDTV has 1080 rows of 1920 pixels each. That's 2,073,600 pixels total.
That's true if the TV is 30 inches wide or 120. The bigger the TV, the bigger the pixels—and the easier it is to see them. And that's bad, because the pixels should be too small to see.
The quality control company THX has a simple formula for calculating the closest you can get to an HDTV without seeing the pixels. Just divide the advertised TV size by 0.84 (remember that TV sizes are measured on the diagonal). So I should not sit closer than five feet from my 50-inch screen.