How to get the best Black Friday deals on your Android phone
Learn which apps and services you need to pay attention to in order to survive one of the biggest shopping days of the year.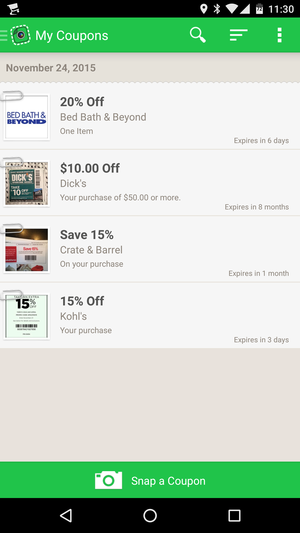 SnipSnap can serve as your all-in-one coupon center.
Better yet, SnipSnap will ping you with the savings you've picked out when you head to that specific store.
Google is also getting in on the act: I recently found some search terms will lead to an option to get text alerts about the particular product I was searching for.

Google has some new service that sends you text alerts about certain categories of products.
It's a new feature, so I can't say for sure how useful it will be or if the offers will be genuine discounts. It's worth trying though, as Google has some pretty big shopping ambitions.
Black Friday apps pull together all the deals
As much as Google tries, it can't do it all. There's another batch of apps you should check out that specify in Black Friday. One is named, well, Black Friday. It shrinks down all the content from the BlackFriday.com website, with numerous leaks of all the forthcoming ads.

(L to R) Black Friday, TGI Black Friday, and BlackFriday.com's app will ensure you don't miss any of the deals.
Two other solid selections are TGI Black Friday and Black Friday 2015. Both apps contain more deals than you can possibly need, as you'll find them constantly updated with the latest information. They're a good place to go if you want to try and skim what's up with the latest sales offers.
Most of these deals are for offers that will require you to actually leave the house. So check them out ahead of time to find out if there's something out there you want to go for.
Don't forget about retailers' official apps
If you're planning to brave the crowds on Black Friday or into the weekend, it's usually a good idea to grab the official app for the stores you're planning to head towards. The big outlets usually throw in deals that can be redeemed only with their respective application.
For example, Target's Cartwheel lists all the current specials, and spits out a bar code for the clerk to scan when you check out. The app also has a 3-D model of each store, which makes it much easier to track down those hard-to-find sections.

(L to R) Target's Cartwheel, Wal-Mart, and Best Buy apps give you extra tools for a better in-store experience.
Also, with the Best Buy app you can scan bar codes of products and get more details about them. The app is also regularly updated with ongoing specials, which can be helpful on a day like Black Friday.