How smart cities like New York City will drive enterprise change
Laying high-speed fiber across an entire city and connecting sensor-based public Wi-Fi kiosks is good for the public -- and very good for business.

Credit: LinkNYC
Everybody talks about smart cities, but few are doing anything about it.
New York City is an exception. It's in the early stages of an ambitious project to blanket the city with ultrafast Wi-Fi via smart kiosks, which will replace obsolete public telephones.
These kiosks are the work of a Google-backed startup called Intersection. The company has already installed around 1,000 kiosks, and aims to install more than 6,000 more, Intersection Chief Innovation Officer Colin O'Donnell said in an interview this week.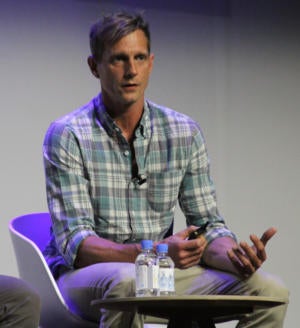 Intersection Chief Innovation Officer Colin O'Donnell on stage at Cannes Lions on June 18, 2017. Credit: Mike Elgan
Each kiosk is around nine feet high and relatively flat. Each flat side houses a big-screen display that pays for the whole operation with advertising. The screens also show emergency and other public information.
A smaller user terminal on the skinny edge facing away from the street allows one user at a time to access information and make calls. The screen is a locked-down Android tablet with a custom interface offering a few apps to access various services, including one for paying parking tickets and another for voter registration.
Below the screen on the left is a big, red button for a one-press 911 emergency call. Under that is an audio jack, where non-iPhone users can insert their headphones or earbuds for privacy. (The hardware supports standard audio jacks, but not Apple's newer lightning cable configuration.) Next to those options is a numeric keypad for dialing calls. And below all that are two USB ports for charging devices.
Each kiosk provides free, high-speed Wi-Fi for anyone in range. By selecting the Wi-Fi network at one kiosk, and authenticating with an email address, each user will be automatically connected to every other LinkNYC kiosk they get within range of. Eventually, anyone will be able to walk around most of the city without losing the connection to these hotspots.
Wide-angle cameras on each side of the kiosks point up and down the street and sidewalk, approximating a 360-degree view. The company claims it deletes stored videos after 7 days, unless there's a compelling reason to keep them, according to O'Donnell.
While the built-in kiosk tablet doesn't appear to offer a high-performance user experience, the public Wi-Fi is blistering fast -- far faster than the average connection speeds offered by mobile carriers over cell networks. Some New York content creators producing massive amounts of content, such as HD videos, are now hauling their laptops down to the street for faster uploading.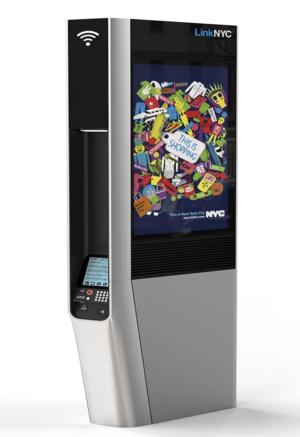 Intersection has already installed 1,000 LinkNYC smart kiosks on New York sidewalks. It's planning more than 6,000 more. Credit: CityBridge