How my Apple Watch's heart rate monitoring saved my life
Chuck La Tournous has a scary story with a happy ending. Whew.
My blood is now kept therapeutic—or "non-clotty," as I like to think of it—by a blood thinner that I'll most likely have to take for the rest of my life. That's a small price to pay for remaining upright. But even more, it's given me a big incentive to stay on top of my health, and in this age of technology, there are a lot of things that make that easy to do.
For me, the key metrics to watch are my blood pressure, my heart rate, and my "pulse ox"—the amount of oxygen present in my blood. The amazing health team that cared for me in the hospital did that using very expensive technology that they wheeled into my room every couple of hours. I get those same tests when I go for follow-up visits to my doctors, but I wanted to stay on top of my numbers in between visits too.
We can rebuild him. We have the technology
I looked into the available options and ultimately chose two pieces of equipment. The first is Withings' Wireless Blood Pressure Monitor. Like a conventional cuff, it wraps around my arm and inflates to measure my blood pressure.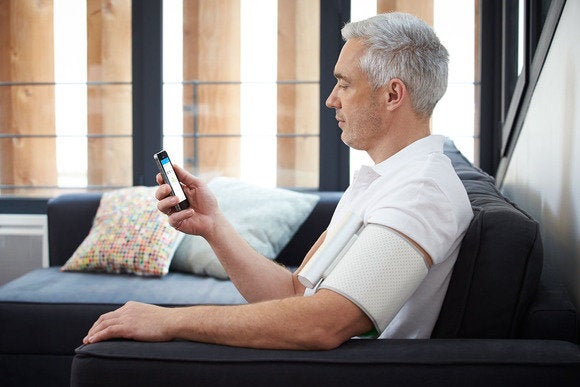 Withings' monitor is easy to use and I love that it supports HealthKit to send all my data to the Health app.
Unlike conventional monitors, it's operated through an iPhone app and is completely wireless, requiring no stethoscope or other cables. Just press a button on the tubular device attached to the cuff and an app automatically launches, controls the measurement, and delivers your results. To ensure consistent results, you can set the cuff to take three consecutive measurements. All results are stored in the Withings app, so you can see trends over time, and the information can be shared with Apple's Health app if you want.
The other device is the MocaHeart, a small, flat, rounded rectangular device about the size of a stick of gum. It measures your heart rate (yes, your Apple Watch already does that), but more impressively, it measures your pulse oxygen level. And again, it keeps track of historical data so you can view trends over time, and it shares data (with your permission) with the Health app.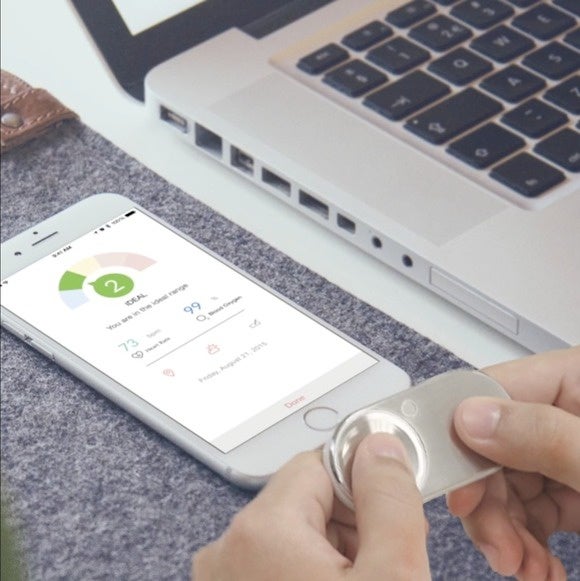 The MocaHeart is a small device you hold in your hands to get readings, including blood oxygen levels.
Having gotten the chance to compare these consumer-level devices against hospital equipment (not an experience I'd recommend), I'm blown away by the accuracy of both the Apple Watch heart rate monitor, Withings blood pressure cuff, and the MocaHeart. And it's been incredibly reassuring to have such immediate and easy access to vital health information. Armed with this information, I can make on-the-fly adjustments to the things that impact my health.
Previous Page 1 2 3 4 Next Page