How Microsoft's former PC gaming glory could help fix today's Windows gaming woes
Microsoft could win back PC gamers by returning to its roots.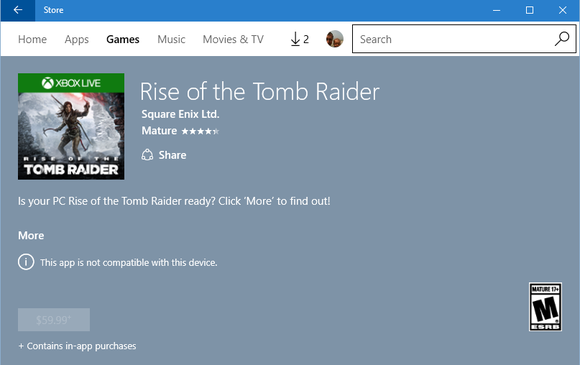 Credit: Rise of the Tomb Raider is available in the Windows Store, but is objectively better via Steam.
The restrictions on Windows Store apps go deeper. When Rise of the Tomb Raider launched, fans quickly discovered a multitude of universal Windows app problems. Games run in borderless windowed mode exclusively, but graphics cards run better in dedicated full-screen mode. Dual-GPU setups won't work unless the game developers specifically support DirectX 12 trickery. Window overlays, for software like FRAPS and Forge.gg, don't work, and you can't even add the games to the Steam launcher or use the Steam Controller with them, because Windows Store games lack traditional .EXE files. Want to inject things like SweetFX to pretty up your graphics? No can do.
Windows Store games also started out life with V-sync always enabled, which can cause nasty input lag on some machines, and lacked support for FreeSync and G-Sync monitors. Fortunately, those flaws were fixed in a recent update..
Gears of War's launch on the PC had its own problems: The game refused to download or run for many players. Microsoft has solved some issues, but it's denied users the option of refunding broken games. For now, it is objectively better to buy games like Rise of the Tomb Raider on Steam, where they'll run great, let you do pretty much whatever you want with them, and you can even be refunded if they don't work.
What Microsoft needs to do in the future
These deep-rooted flaws disappoint, but don't write off universal Windows apps yet. This is Microsoft, the company that built the biggest gaming platform in the world. Many of the underlying ideas are great, and there are ways to improve. Here's how.
Step 1: Re-release Microsoft's entire gaming back catalog, preferably on a service like Steam or gog.com. This would quickly win back goodwill from PC gamers. Age of Empires II HD is a great step, but where's the original Age of Empires? Where's Midtown Madness or MechCommander or Halo or Zoo Tycoon? Companies like Night Dive Studios and CD Projekt specialize in bringing old games to modern systems, so Microsoft doesn't even have to handle it. Just release the games at a fair $6 to $10 price point, and an awful lot of people will be pleased.
Step 2: Open Windows Store games to tinkering. This is PC gaming. If I buy a game, I want to be able to mess with it. I'd be happy if I could run Forge, inject SweetFX, and even tinker with .INI files from time to time. No more encrypted drive/no exe/only install to one specific location nonsense, Microsoft. Let me pick when, where, and how the software runs on my machine.
Previous Page 1 2 3 4 5 6 7 Next Page