How Microsoft's former PC gaming glory could help fix today's Windows gaming woes
Microsoft could win back PC gamers by returning to its roots.
None of that information is useful to me with the exception of the option to stream my console—and that feature doesn't work consistently. Despite a 100-percent wired connection that the app tells me can handle "very high settings," streaming suffers from excessive macroblocking and freezing.
The other information is unnecessary. I don't need to know that one of my friends added a new friend or uploaded a video clip. I don't need my friends list open at all times. What I want to see is my game library and information relevant to those games.
Even if I could default to my library, what I see there is simply an alphabetical list of my games. Steam displays a list where I can sort—even hide—games by putting them into folders, and it also reveals information about the currently selected or most recent game in the main pane. Searching for any Steam game pulls up relevant information: how much time I've played it for, where it's installed, whether I want to stream it, my screenshots, the latest news and patch notes, and, yes, which friends are currently playing it. This information's also designed to be viewed on a computer monitor. The Xbox app has these needlessly giant icons that may work on a tablet, but that's not where I'd be playing the PC editions of Quantum Break or Gears of War.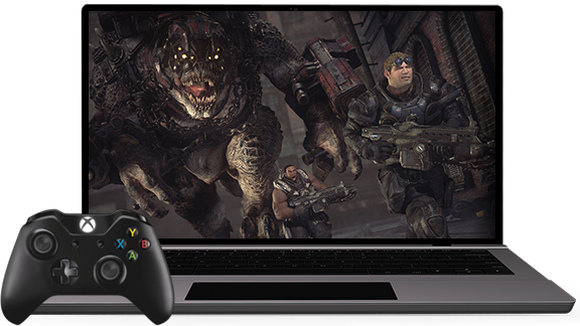 Credit: Gears of War: Ultimate Edition.
The Xbox app does have some advantages. Access to screenshots is easy, video recording's a neat touch that Steam lacks, and the Xbox One/Windows 10 cross-buy functionality introduced with Killer Instinct and Quantum Break rocks, especially when saves transfer over. Being able to message friends in the app is awesome—Steam doesn't have a good offline messaging service. There are a lot of fresh ideas in the Xbox app, but Steam is better at the basics.
Universal Windows apps disappoint
Let's assume Microsoft gets all that worked out. Then we run into another problem: the limitations of universal Windows apps themselves
Until recently, Microsoft limited Windows Store installations to your PC's C: drive. You can now install games to multiple drives, but you can't pick specific destination folders. Worse, you can't access those folders, even with admin rights. To PC gamers, this is a huge problem, as it prevents other programs and mods from hooking into your games. If something doesn't work, you can't even mod it to fix it—an essential element of PC gaming, as fans of Bethesda RPGs can tell you.
Previous Page 1 2 3 4 5 6 7 Next Page