How Microsoft's former PC gaming glory could help fix today's Windows gaming woes
Microsoft could win back PC gamers by returning to its roots.
The PC customer base didn't move from the PC to the Xbox, though. The Steam renaissance—where Steam became the dominant PC platform—was just around the corner.
Microsoft introduced a new platform, Games for Windows Live, but calling it a catastrophe would be an understatement. GFWL often broke games and sometimes even deleted saves.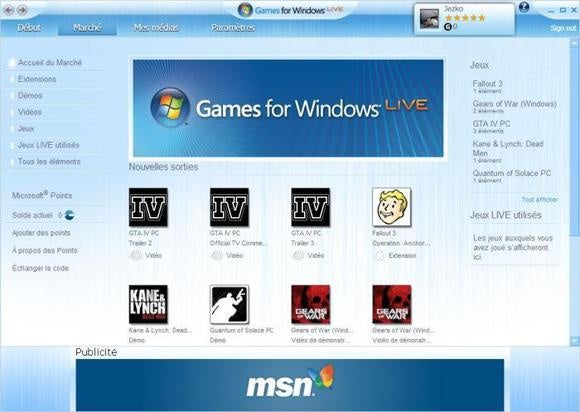 Credit: Softonic
I remember trying to boot Bulletstorm, only to have the game freeze at the sign-in stage and demand a patch for GWFL, which meant exiting the program. Exiting repeated the vicious cycle. Force-quitting the program offered a 50/50 chance that GFWL would actually download a patch. Then I rebooted the game, only to be faced with a patch for the game itself, starting the nightmare anew.
Gamers hated it. Many publishers backed away from GFWL and embraced Steam DRM instead. The service was eventually shuttered in 2013.
Around the same time, Microsoft attempted to release some free-to-play versions of its most popular series, Age of Empires Online and Microsoft Flight. Both were poorly received.
My copy of Flight (Microsoft's followup to the beloved Flight Simulator series) refused to work due to GFWL errors. It also slapped series enthusiasts in the face by offering only the Hawaiian islands for free; purchasing all the airplanes and the Alaskan add-on cost around $100. Previous entries in the series had dozens of planes, thousands of mods, and the entire surface of Earth for around half the cost.
Between the GFWL disaster and the nasty free-to-play push, PC gamers (rightly) felt betrayed. Many still do.
Microsoft continued to make and break promises to PC gamers, as an infamous NeoGAF post detailed. Microsoft's classic games are absent from services like Steam and gog.com, though some stellar newer releases like Age of Empires II HD and Ori and the Blind Forest are there. But most new releases from Microsoft's classic series have been disappointing; Zoo Tycoon fails to live up to the original. MechWarrior has become a weak free-to-play game. Flight Simulator X was licensed to Dovetail Games, who released it on Steam with $1,621.15 of DLC.
Microsoft's new plans for the PC move to Windows 10's Universal Windows Platform. UWP is supposed to make our lives better: Anyone can release a universal Windows app, which, in theory, should work across all Windows-based platforms—any Windows PC or tablet, and even the Xbox One or HoloLens.
The idea is cool, but the execution has some serious problems.
Microsoft's problematic present
Let's start with simple usability. Is it easy to buy and play games in the Windows Store? Unfortunately not.
Previous Page 1 2 3 4 5 6 7 Next Page