How LG uses fuzzy math to label some of its LCD TVs as 4K
By replacing every fourth red, green, or blue subpixel with a white one, LG boosts the brightness of its 6100-, 6500-, and 6800-series models. The trick works, but it sacrifices resolution.
As I expected, the presence of the white subpixels rendered the 6100-series TVs' color temperature cool, skewing it toward toward the blue end of the spectrum. What wasn't cool was the lack of detail in the 4K video and images the TV displayed.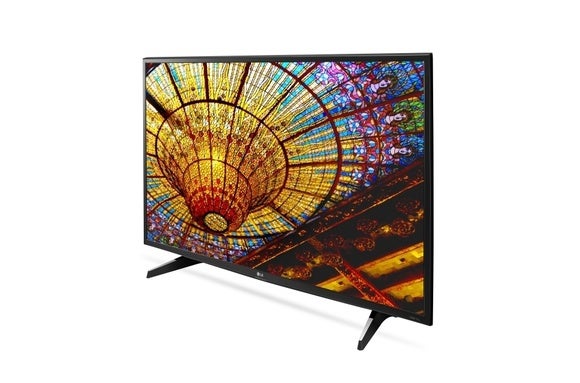 This image is from LG's site; whether it's actually one of the TVs in question or just an artistic rendering isn't clear.
I've viewed our test files hundreds of times, on dozens of 4K TVs, and to be perfectly blunt, they didn't look like 4K when displayed on the 6100 series. Instead, the picture looked exactly like what LG's detractors say it is—3K resolution (2.8K to be precise). Areas of high detail were less defined, and the overall look was simply softer. The ongoing dearth of true high-quality 4K content is probably why you haven't seen a lot of complaints from buyers of these TVs. In fact, if you look right now, you'll encounter quite a few positive user reviews, but I'm guessing opinions will change over time as more 4K content becomes available.
Why would LG take this approach to building TVs? Well, besides producing a good amount of brightness, an RGBW LCD panel is more energy-efficient than an RGB LCD panel, which must blast all three subpixels with its backlight to create white. LG's 43-inch 43UH6100 is rated for an operating cost of $16 a month, where most LCD TVs of similar size and brightness are rated to cost $20 or more per month to operate. LG also quotes lower productions costs in the papers I've seen.
My take as a TV enthusiast
The subtractive/replacement RGBW used to produce LG's 6800-, 6500,- and 6100-series TVs wouldn't be an issue if the technology were advertised as 2.8K, or even—as the industry is wont to do—rounded up and pitched as a 3K. Failing that, consumers should be given at least a footnote in the specs. But these TVs are being sold to consumers as if they offered the same technology found in nearly every other 4K TV on the market, and they don't.
For the sake of argument—and lending LG's marketing and definition a credence that I don't feel it deserves—let's say that the 6100-series TVs I viewed are 4K. In that case, I'll say that in terms of definition and detail, they offer by far the worst 4K image I've seen. And image detail is really what 4K is all about—or will be about when the content catches up. I haven't had a good look at a 6500-series TV, and have never seen a 6800-series model, but caveat emptor.
Previous Page 1 2 3