How IT can prepare for VR, AR and MR in the enterprise
Virtual reality, augmented reality and mixed reality tools are coming to the workplace sooner than you think. Is your IT department ready?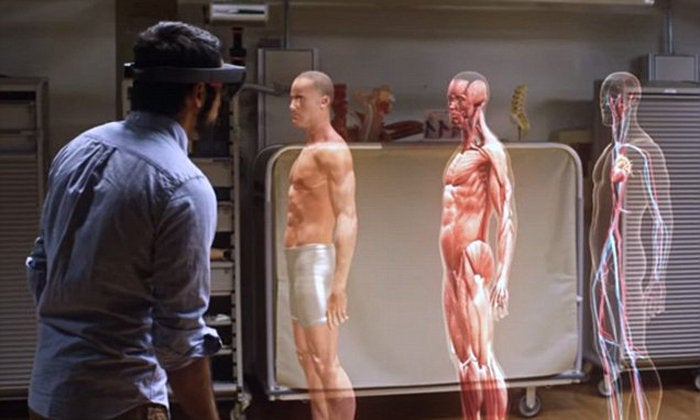 Case Western Reserve University's medical school is exploring the possibility of using mixed reality to teach anatomy without the need for cadavers. Credit: Case Western Reserve University
"We looked at several other technologies," Workman says. "For instance, one option we examined was a table monitor that's horizontal instead of vertical and displays 3D anatomy. But it's still 3D on a 2D screen. [HoloLens] technology has been the one that's really stood out to us and seemed likely to make the most sense for our anatomy faculty."
So far, Workman says, supporting the HoloLens doesn't look like it's going to be a big challenge to the school's IT resources. "The headset is a Windows 10 computer, and you use Unity to develop the applications," she explains. You do need some storage capacity when you're developing, until you can compress the data to actually send it to the HoloLens. "We're currently using Microsoft Azure to serve our devices," Workman says, "but it really doesn't matter — you could use AWS."
That's not to say that deploying several dozen headsets (so far) has presented no challenges. "The infrastructure is where you have to concentrate," Workman says. "The biggest impact has been with Wi-Fi, and we're working through those issues now."
What she's finding is that the devices might connect to the first wireless access point they encounter and stay connected, even when transferring to another access point might be more efficient. "If there are thirty people in the room, all thirty might connect to the same WAP," she says, "or there might be five WAPs in there, but only two of them are really serving." But, she's quick to point out, this isn't a problem unique to or new with the HoloLens — "it also happens in libraries and residence halls with students' cell phones."
So far, security hasn't been an issue because the tests haven't used real patient data or anything identifiable. "Someday, in a clinical situation, there will absolutely be privacy and security concerns," Workman acknowledges, adding that CWRU is working through security and compliance issues related to HoloLens now. But again, she says, it's no different than dealing with those issues on cell phones. "You've got to have best practices in place, you've got to have guidelines, you've got to have storage that's secure and networks you can trust. It's no different than with any other device."
Bosch: Working toward a unified AR interface
Bosch Auto Parts, which produces everything from brakes to batteries, is both a user and a supplier of AR systems, according to Juergen Lumera, director of global technical information systems product management and Innovation at Bosch Automotive Service Solutions. Lumera works with both internal and external customers, helping their service and IT departments understand what they need to be aware of when implementing an AR product. "We do the majority of our applications — service information, training, and end-of-line production solutions — for automotive enterprises with twenty to thirty thousand users," he says.
Previous Page 1 2 3 4 5 6 7 Next Page