How IT can prepare for VR, AR and MR in the enterprise
Virtual reality, augmented reality and mixed reality tools are coming to the workplace sooner than you think. Is your IT department ready?
Fauscette agrees. "Over the next two to three years, you're going to see AR go mainstream around some specific tasks like field service, logistics, warehouse, repairs and design," he says. "VR lags that by 25% or so."
And with Apple's June announcement of its ARKit developer framework for easily creating AR apps, it's clear that the company envisions AR having a significant presence on millions of iPhone and iPad users after it releases iOS 11 this fall. Initially, most of those apps will be consumer-facing, but they'll be entering the workplace on employees' mobile devices whether IT is ready or not. And, of course, ARKit opens up even more opportunities for companies to create worker-facing AR apps.
Corporations such as Boeing and Bosch are already running pilot programs with AR, VR and MR, as are educational institutions such as Case Western Reserve University. We spoke to these three organizations about the benefits and the challenges of mixing realities, and sought advice for IT departments preparing for the coming influx of apps and devices based on these technologies.
Boeing: Assembling satellites with an AR assist
Aviation giant Boeing has been experimenting with augmented reality for nearly 30 years. In the late 1980s, researchers were using headsets that could show a 2D display of a wiring diagram in a complex wiring harness. A more recent effort began about six years ago, starting in Boeing's satellite factory in El Segundo, Calif.
"We've mainly been doing pilots around AR to figure out how we would implement these things on a larger scale," explains Boeing senior technical fellow Paul Davies. "That involves, 'What is the concept of operations? Do workers hold a tablet or do we try a wearable?' We're also trying to figure out how to connect these systems to our back end. The big goal, at least for my group, is reducing the cycle time — the build time — and then improving the quality."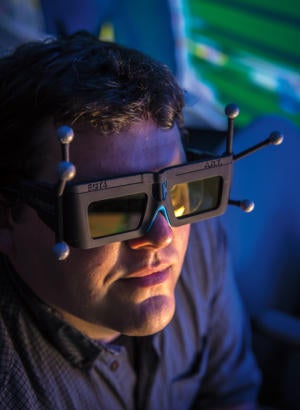 Boeing Research & Technology systems engineer Adam Richardson works on design problems for the 777X aircraft using glasses that let him see a 3D virtual reality image of part of the airplane. Credit: Boeing
Boeing has built its own AR tool based on a commercially available SDK, adding a custom interface. With it, the technicians who assemble Boeing products (satellites, in this case) can receive technical information about the product as they work. "In some cases it could be step-by-step guidance on how to do a job," says Davies. "Or maybe they're seeing a model of a part so they can understand which way to orient it on a satellite panel."
Previous Page 1 2 3 4 5 6 7 Next Page