How IT can prepare for VR, AR and MR in the enterprise
Virtual reality, augmented reality and mixed reality tools are coming to the workplace sooner than you think. Is your IT department ready?
"The field service world is another one," adds Michael Fauscette, chief research officer at B2B reviews platform G2 Crowd. "Say you service a solar farm and you have to make a repair. If you have AR capability, you could see the work order, see the process, even see an overlay of the repair — there are all sorts of opportunities to put that data into your field of vision that makes it so much faster and easier to do your work."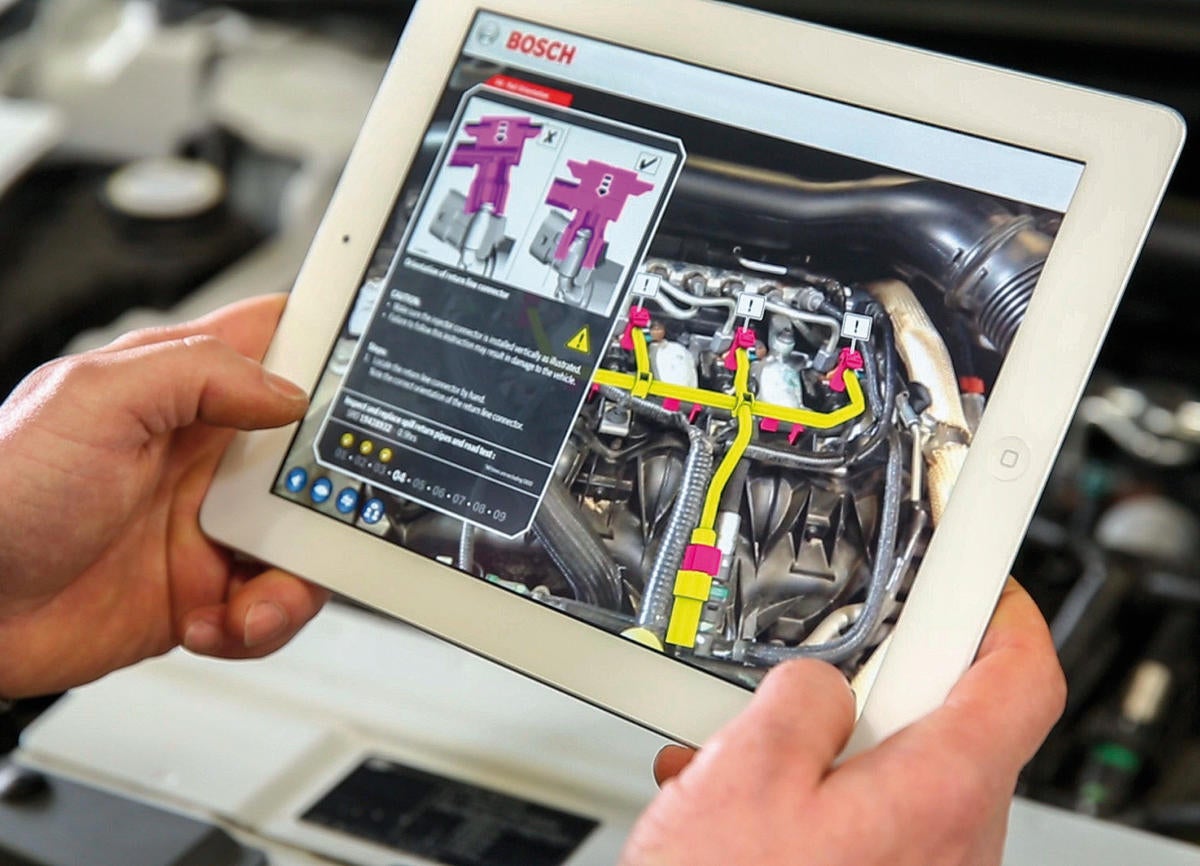 Automotive technicians can use Bosch's AR system to view the part they need to work on highlighted against an image of the actual engine needing repair. Credit: Bosch Auto Parts
Challenges for IT
With great opportunities come great responsibility, as Uncle Ben might have said if he'd worked in IT. "Like anything else, when you adopt a new technology, it puts a strain on your infrastructure," warns Chad Holmes, principal and cyber CTO at professional services organization EY. "You have to uplift your infrastructure to support a new communication path or channel."
Unfortunately, Holmes continues, many companies don't have the back-office capabilities required to support AR, MR and VR. "The technology is there, but a lot of improvements need to be made to old legacy systems to make sure that these types of technologies can function how they're supposed to," he says. "For most, it's a big investment."
The other big concern cited by Holmes and others is the security issue raised by the addition of new remote devices sharing data wirelessly. "So much is new and untested when it comes to AR and VR," Holmes says. "We don't yet know all the ways in which these solutions can be vulnerable. You've got to think about what they're going to be used for — what they're actually transmitting and looking at."
Nguyen agrees. "We have a head-mounted display, it's a portable device, it probably will have a camera on it, and the camera might be on all the time," he says, recalling that when phones first started getting cameras, IT departments were going crazy.
The constant flow of information also raises privacy issues. "I have this device on, so my employer can track and know that I took 25 minutes on a maintenance task that usually only takes 15 or that I wandered off someplace," he says. "These are things IT departments have to consider."
Time's a-wastin'
AR, VR and MR deployments may seem a long way off, but it won't be long before most enterprises will need to be ready. While consumer AR apps like Pokémon Go may get all the buzz, Nguyen says, "What I'm seeing is that business-to-business AR is ahead of business-to-consumer AR, whereas on the VR side it's flipped." He estimates that enterprise use of AR technology is two or three years ahead of the consumer side. "I expect the maturing and the traction within the enterprise to continue to outpace the consumer side, at least in the next three or so years," he adds.
Previous Page 1 2 3 4 5 6 7 Next Page