Hands-on with Walmart Pay: The retailer's answer to Apple Pay is a pleasant surprise
The company's app-based payment system for in-store purchases isn't perfect, but it's nearly delightful.
Both systems still rely on a QR Code as the glue between the point-of-sale (POS) system and the back-end payment network linked via the app: you use a 2D code to make that linkage. However, CurrentC had to accommodate many different POS systems, so a customer might have to scan a code or present a code on their phone to be scanned or, if that failed, might have to enter a number.
However, because Walmart designed and controls the entire experience, nothing seems as clunky as CurrentC—it's consistent and streamlined. And Walmart Pay is ecumenical, accepting as many methods of payment as an in-store or online purchase. Finally, because it's part of the Walmart apps, regular shoppers don't need to install anything else to make use of it.
In the Walmart app, after setting up an account if you don't have one already, you can tap the Walmart Pay item, which is near the bottom of the home screen. After agreeing you want to use Walmart Pay, the setup process already shows any credit cards you had registered with Walmart's online store, as the app can be used both for online shopping and in-store payment. Adding cards is a bit annoying, because the app can't scan a card to recognize its number and expiration date; it would be nice if they added that, but it's a one-time or rare entry issue. You can switch among payment options at the time of purchase.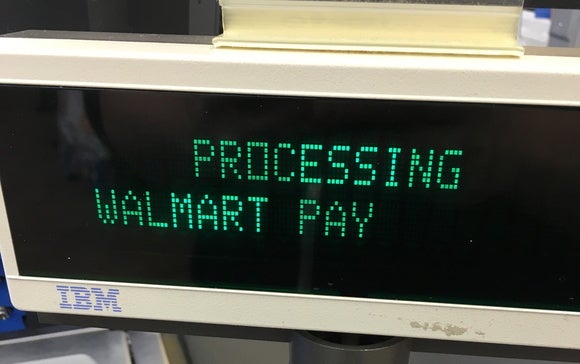 The somewhat ancient POS system shows a bit of modern text.
Once cards are added, the app requires creating a PIN for use. After creating a PIN, however, you can enable Touch ID and use that to unlock it instead.
In the store, it wasn't completely a breeze. I purchased a battery-powered dial clock we needed for our house for about $6 plus tax. After the clerk had scanned it and brought up a total, a Walmart Pay message and a QR Code appeared to scan. However, it then disappeared and showed me a total. I had to ask if she could bring the code up again, and she was able to do so within a few seconds; the store wasn't part of the earlier trial, so Walmart must have done some good advance training.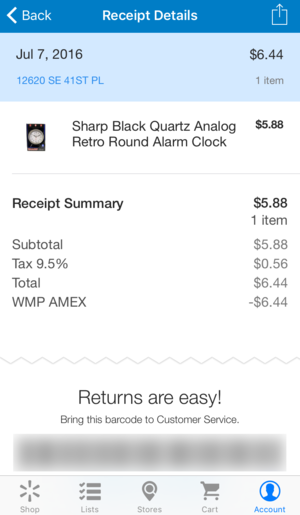 The e-receipt shows all the details, including a bar code (blurred here) for a sales associated to scan if you return the product.
Then I was able to unlock Walmart Pay with my thumb, scan the code, and have the transaction go through. It took longer than most Apple Pay and swiped or dipped credit-card transactions, but still only a matter of perhaps 20 seconds. When the charge completed, an e-receipt appeared on my screen, and the cashier's system told her payment had gone through.