Hands-on with Walmart Pay: The retailer's answer to Apple Pay is a pleasant surprise
The company's app-based payment system for in-store purchases isn't perfect, but it's nearly delightful.
Walmart has rolled out its Walmart Pay system to all its U.S. stores following a several-month long trial. The payment option is built into its existing iOS and Android apps, and allows enrolling all major credit and debit cards, gift cards, and prepaid cards, but it notably doesn't link to checking accounts directly. I tested out the service, and while it's no Apple Pay (nor Android Pay), with the ease of tap-and-confirm, the feature is easy to set up and has very little friction to use.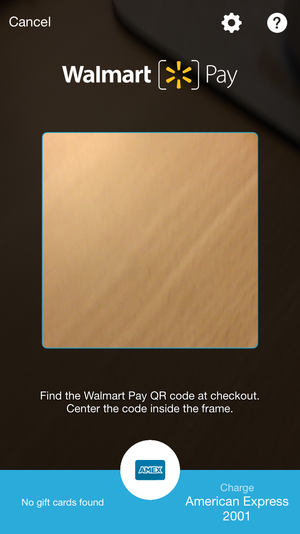 The app requires you to scan a 2D code that appears on the POS display.
Walmart is a member of the Merchant Consumer Exchange (MCX) consortium, which spent years developing the awkward CurrentC system, which was effectively shut down in June. CurrentC was the dream of retailers before the rapid rise of NFC-based mobile payment offerings, like Apple Pay and Android Pay, and an attempt by those companies to reduce their payment-network transaction fees. Many members, like Target and Best Buy, gave in and accepted or will soon accept mobile payments, but Walmart held out.
Because CurrentC was created to benefit the retailers, the focus was on getting customer to link a checking account, and then processing charges as automatic clearinghouse (ACH) transactions. ACH offers substantially less consumer protection than credit-card and debit-card transactions, even when a debit card is linked directly to a checking account, but it has a much lower fee for processing. CurrentC also supported merchant-linked debit, credit, and gift cards, as those companies could recover more fees directly.
Confessions of a Walmart non-shopper
I'll confess several things at this juncture. First, I've only apparently made one purchase ever from Walmart.com, according to details in the app, once I logged in. Second, I had no idea where stores existed in the vicinity of my home in Seattle; turns out, Walmart took over a defunct department store about 20 minutes away in a popular mall. (A few other stores are 25 to 45 minutes away.)
Third, I've been ridiculing CurrentC for a long while, in part because of the process, and in part because of customers needing to trust retailers with checking account information after the continuous breaches in merchants' IT systems that exposed debit- and credit-card details. Checking accounts are even more vulnerable. And MCX itself had an embarrassing security breach in October 2014.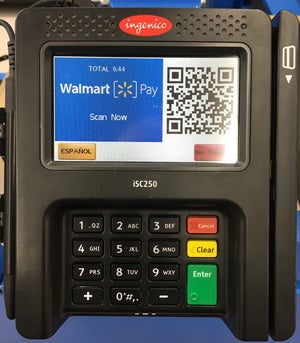 The POS terminal advertises Walmart Pay and shows the code whether you've asked to use it or not, as a way to get customers used to it.