Hands-on with Tsum Tsum, Disney's Japanese plush-inspired mobile game
Tsum Tsum transforms plush toys based on the likeness of characters like Mickey Mouse into lengthy lumps, making them easily stackable in the process.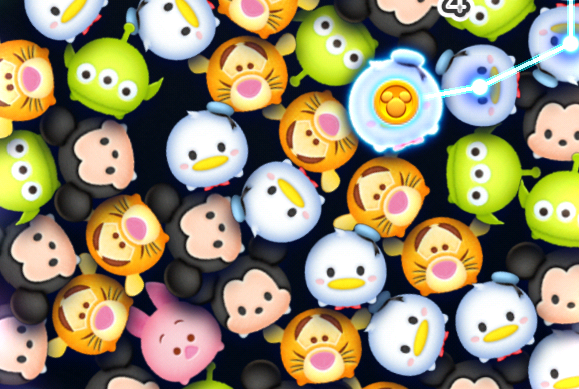 Disney's merchandising prowess has been honed over decades of successful tie-ins to movies and television shows alike, but it's when the Mouse House thinks outside the box that it produces some of its most compelling goods. Perhaps the best example in recent years is the collectible Vinylmation figure line, which took its cues from designer vinyl toys without losing its cool in the commercialization.
Tsum Tsum might be the next big collectable sensation to trade on the Disney aura, and it's already a proven hit in Japan, selling more than 1.6 million plush dolls in just nine months. Tsum Tsum—which translates to "stack stack"—are adorable plush toys based on the likeness of characters like Mickey Mouse, Winnie the Pooh, and Donald Duck, but transformed into lengthy lumps, making them easily stackable in the process.
Following their Japanese debut, more than 30 different Tsum Tsum plush toys are making their debut today at select Disney Stores, parks, and Disney.com, but the physical product is only half of this attempt to infiltrate North American hearts and wallets. The other part is LINE: Disney Tsum Tsum, a free-to-play game also released today for iOS and Android, which finds you linking together the same plushies to clear them from the screen. It's racked up 16 million downloads and topped the free charts internationally, and Disney hopes for similar success here.
Disney's mobile games often range widely between simple marketing tie-ins and worthwhile, thoughtful games, so I was curious to see where Tsum Tsum—released in collaboration with mobile messaging service, LINE—fell on that spectrum. Interestingly enough, it's pretty much dead center, delivering a fun and attractive experience that proves endearing, but is also hampered by very steep asking prices for the in-game content.
LINE: Disney Tsum Tsum's match-three design—in which you link together similar icons on the screen to clear them from view and rack up points—isn't unique, but the distinctively jumbled field of play and stellar presentation help it feel engaging all the same. In each 60-second play attempt, you'll find a heap of the charming creatures stacked in a pile, and nearby ones can be easily linked together by tapping one and dragging your finger across at least three total identical icons.
Creating massive chains can yield glowing orbs that clear nearby characters for a points boost, or may send you more quickly into the flashy fever mode for bonus points. The goal is to rack up as many points as possible during the short span of time in each match, but there's also a strong gotta-collect-'em-all pull with the various Tsum Tsum characters. You'll start with Mickey Mouse and are granted enough starting coin to unlock another common character, but otherwise you'll have to slowly earn coins via gameplay to unlock others.