Hands-on with the Apple TV 6.0 update
Apple has updated the Apple TV software to version 6, which supports iTunes Radio, iCloud to AirPlay streaming, and iPod syncing.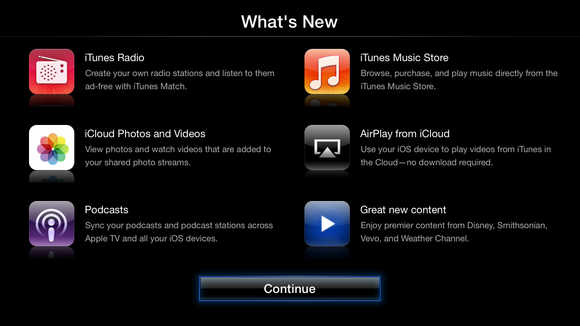 Update: Apple has apparently pulled this update following numerous complaints about it disabling some previously working Apple TVs. Second- and third-generation Apple TVs that should be eligible for updating now report that their current 5.3 version of the operating system is up to date.
While you were out standing in line for an elusive gold iPhone 5s, Apple quietly rolled out the latest Apple TV update. Unlike previous updates that added new channels, version 6 of the Apple TV firmware goes under the hood, adding support for Apple's iTunes Radio streaming service, allowing purchases from the iTunes music store, supporting podcast syncing, and providing access to shared iCloud Photo Streams. Additionally you can stream purchased iTunes content via iCloud to any Apple TV, even when it isn't currently using your iTunes credentials.
iTunes Radio on Apple TV
The new iTunes Radio fills the fourth spot on the top row of Apple TV's apps. Launch it, wait a while as it loads, and the iTunes Radio screen appears. Along the top are Stations, Add Station, Edit Stations, and History headings. Choose Stations and you'll see a row of Apple's preconfigured stations (playlists) and then the My Stations entries below. Just as with iOS 7's Music app, you add stations by clicking an Add Station button. This produces the Add Station screen where you can select a genre and then sub-genre—Alternative > Indie > Rock, for example, and highlight and click a plus (+) button to add the station.
Alternatively, on the Add a Station screen highlight and click Create a Station and in the resulting screen type in the name of an artist, song, or genre; select a matching station; select and click it to add the station; and start it playing.
On the Now Playing screen you can start and stop playback with the remote's Play/Pause button. To see additional options, press and hold the remote's Down button. Do this and you can access the Play More Like This, Never Play This Song, and New Station From Artist options.
Navigate to the Edit Stations screen and you can enable or enable the Explicit Music option as well as select a station and click the Trash icon next to it to delete the station. If, instead, you highlight the station and click you find options for tuning the station (choosing between Hits, Variety, and Discovery), Play More Like This (artist, song, or genre), Never Play This (artist, song, or genre), and Delete Station.
Choose History and you'll see those tracks you've played as well as have access to your Wish List. All the data you find within the Apple TV's iTunes Radio area is synced over iCloud from other devices, which explains why you need to be running iOS 7 and iTunes 11.1 (along with OS X Lion or later) to use it.