Hands-on with Intel's 5GBps wonder, the DC P3608 SSD
You read that right: This SSD pushes 4TB capacity and up to 5GBps read speed.
For my hands-on, I used the 1.6TB version of the P3608 drive and set them up in a RAID 0 configuration. You actually get a choice of RAID 1 or RAID 0 with the P3608 and the RSTe utility.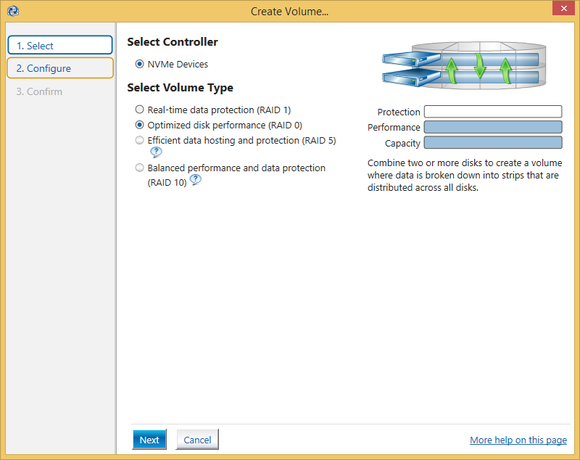 I set up the P3608 in RAID 0 with a stripe size of 128KB. You can set the stripe size by clicking the configure tab.
I did a quick benchmark run, but by no means should you consider this the final word on the P3608 drive. Look for our full review in the coming weeks, but for now let's see how the drive performed in AS SSD, which is a benchmark utility made to measure how an SSD handles incompressible data written and read to it.
The results were fairly close to Intel's rated specifications for the drive. Again, there's a lot more testing to be done but so far, it's looking good. One caveat that should be mentioned up front is you can't boot to it, so you'll need a standard SSD to boot to initially. You might balk at that, but for those who truly need double the performance of the fastest NVMe SSD, it's probably going to be the only game in town.
Previous Page 1 2 3