Hands-on with Intel's 5GBps wonder, the DC P3608 SSD
You read that right: This SSD pushes 4TB capacity and up to 5GBps read speed.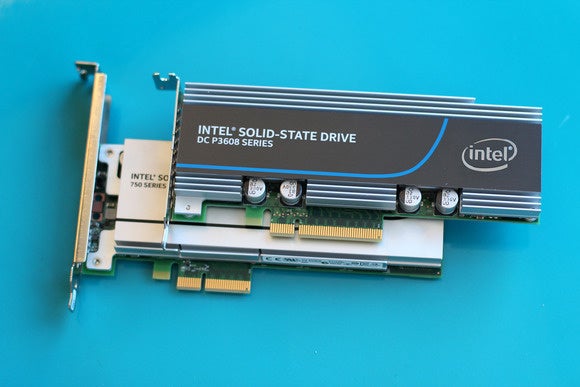 Intel's new DC P3608 on top of the Intel 750 SSD. Note the x8 PCIe on the new card vs. the x4 PCIe on the older card. Credit: Gordon Mah Ung
One thing that's a little hard to see from the photo above are the concerns over thermals. Because this same cooling solution is used for all three models of the P3608, it has to handle the heat of two high-performance processors plus up to 4TB of NAND. That means there's a full heat sink with more fins in the P3608. This next photo helps show the difference in cooling.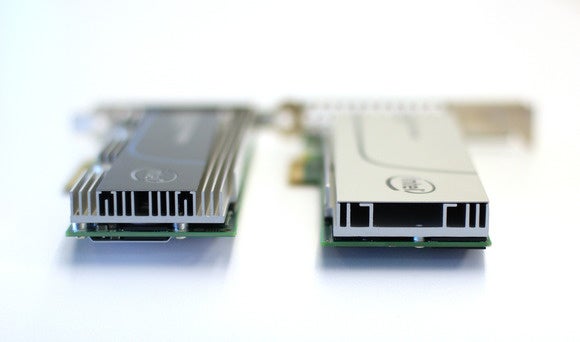 The back end of the P3608 drive shows how much more heat sink is used to cool the card. Credit: Gordon Mah Ung
You can see a lot more fins in the P3608 vs. the 750 Intel drive to help increase surface area and dissipate the heat it produces. The idle power is about 11.5 watts on all three, with the max power of the SSDs going from 25 watts for the 1.6TB, to 35 watts for the 3.2TB and 40 watts for the 4TB version. It's all still passively cooled, but you can see we're very rapidly approaching the point where we'll need to actively cool the SSDs in our systems. Yes, think about it: actively cooled SSD due to the performance. Yowza.
Setting up the drive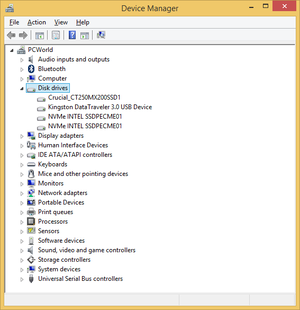 With a high-performance PCIe drive, you can't just jam it into a slot and assume it works. You'll basically want it in a slot with full x8 PCIe Gen 3.0 available to it. If you're using an X99 motherboard and a Haswell-E, that's usually not a problem (though it can be on the lower end Core i7-5820K CPU, with its cut-down PCIe lanes). On a Z97 Haswell, dropping this card into a slot will drop your GPU down from x16 to x8 speeds, because there isn't enough available bandwidth on the Haswell and Broadwell CPUs. Skylake should have enough. My warning is just to be careful about where you populate this drive in a system.
Once you have the system booted, you'll see the drive as two drives. You can run them as separate drives, but most people will want some form of RAID to increase performance or redundancy.
The drive does work with the native NVMe driver in Windows 8.1, but it's recommended that you install Intel's latest RSTe with the drive. Once you do that you can configure the RAID.