Hands-on with Homeboy: This could be the best home-security camera yet
Homeboy remedies almost every drawback seen in security cameras and it doesn't cost a fortune.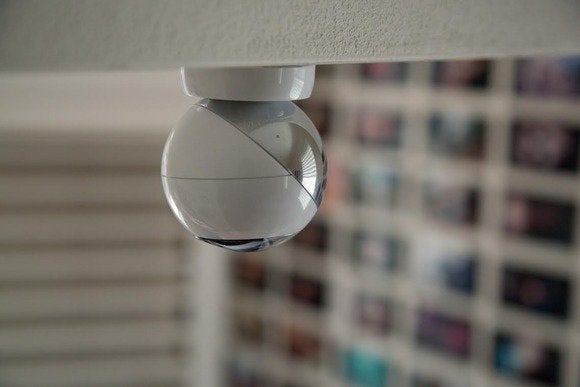 If you're looking for an IP camera for home security, you'll want to know about Homeboy. It remedies almost every drawback I've seen in security cameras. It doesn't cost a fortune. And you'll be able to buy one soon--without having to participate in a crowd-funding campaign.
If Homeboy looks familiar, it's because it built on the intellectual property developed for the Hive camera that garnered a lot of attention about two years ago, but that was ultimately never brought to market.
I spent some hands-on time last week with a production-level Homeboy and a beta version of the iPhone app that goes with it (which is why this isn't a formal review).
Homeboy runs on a rechargeable battery, so you can put it virtually anywhere indoors (it's not weatherized against the elements). It eliminates the expense associated with a monitoring service that can contact an emergency dispatcher, but it delivers some of the most important benefits a paid monitoring service provides. It can function as a stand-alone device, or you can integrate it into your home-control system to trigger other devices, such as a light switch.
It sends video clips (with optional audio) to your smartphone. It can be armed and disarmed using geo-fencing, so you don't need to remember to activate it every time you leave your house. It's outfitted with basic night vision, so it can operate in the dark. It has a motion sensor, a mic, and a built-in siren to let intruders know they've been detected. And you can deploy an almost unlimited number of Homeboys at a single location without worrying that you'll overwhelm your Wi-Fi router.
A battery-powered Wi-Fi camera. Seriously?
I've kvetched about how power-hungry Wi-Fi can be, so I was surprised when Homeboy inventor Mark Richards told me the camera operates on battery power. It seems he's been working to develop very-low-power Wi-Fi technology for some time. Richards says the camera will operate up to three months on a full charge. That's impossible, right? A camera that's powered up and streaming video to the cloud 24/7 wouldn't last a day on battery power, much less three months.
That's the Homeboy's first trick. It's also the factor that will immediately remove this device from consideration if you're looking for a conventional IP camera. The Homeboy spends most of its time in sleep mode, waking only while armed and after it detects motion.
When something moves in front of the camera, it boots up in just 500 milliseconds to capture a snippet of video and operate its siren. The video is then sent to your smartphone via your Wi-Fi router and the cloud.