Hands on with Alpha 2, an 'interactive family robot' that tells bedtime stories and teaches yoga
The Alpha 2 from UBTech might cost US$1,300, but you have to pay to play in the pricey world of service droids.
UBTech makes a lot of big promises about Alpha 2, its family-friendly "humanoid robot," so it's almost reassuring to see that the retail price is set for a steep US$1300.
When Alpha 2 exits its development stage and goes onsale, it promises to control home security systems. And teach you foreign languages. And tell the kids bedtime stories. And thanks to a high-precision servo and 20 movable joints that replicate human motion, the 17-inch tall Alpha 2 even does yoga instruction.
Are these the kind of features you want to buy on the cheap? Most definitely not. You have to pay to play in the brave new world of service droids, and the features I listed above are just a few of the robot's headline functions. The Alpha 2 was first announced in an early November Indiegogo campaign, but now UBTech is publicly showing the robot for the very first time at CES.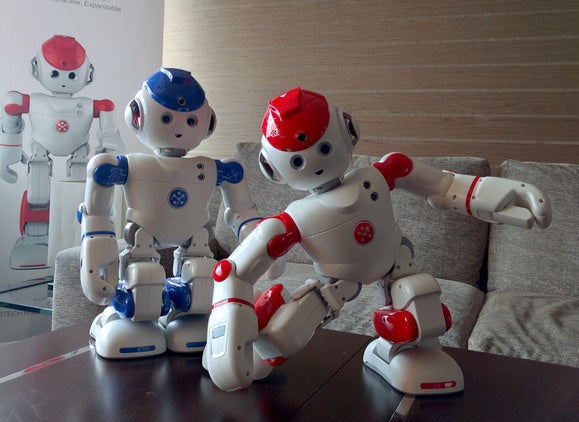 Jon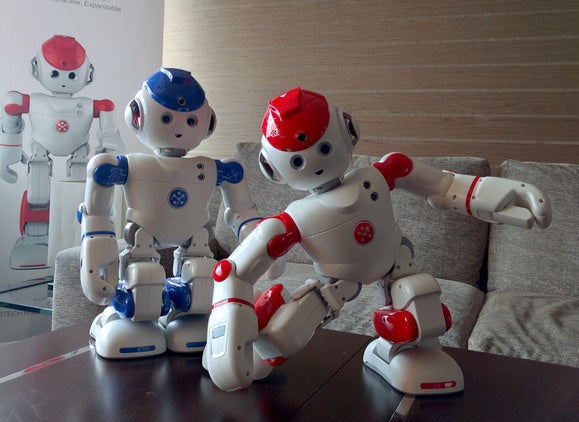 UBTech had three Alpha 2 prototypes for my demo, and while the hardware seemed ready to roll, the software was still a bit rough. Nonetheless, UBTech CEO James Chow was able to show me some of what this "interactive family robot" can do many months ahead of its expected retail launch in Q4.
The Alpha 2 told me a children's story, complete with kitschy voice effects, and scripted body motions. It contorted its body into a single yoga pose (many more poses are promised for the future). The Alpha 2 played high-energy pop music, and danced to the beat. Today the playlist is limited, but streaming music support is in the UBTech roadmap.
And most intriguingly, the Alpha 2 controlled the garage door and living room lights of a tiny model home. Today the smart home control depends on a closed proprietary system that UBTech just uses for demo purposes, but support for Apple HomeKit, Nest, Samsung SmartThings, and Philips Hue are in the company's targets.
Chow also demoed the Alpha 2's facial recognition: The robot's head tracked my movement with its eyes, and then snapped a photo of me when I triggered a button on a mobile app. In the future, that photo function will be voice controlled, and Alpha 2 will upload images to social media. Also in the future: Support for Google search. You'll be able to hook into Google language translation, weather reports, and the full Google knowledge graph. Just ask Alpha 2 a question, and he (or she?) will tap into Google for a response.