Hallmark's new eCard mobile app hopes to target 'soulless' interactions
Mobile ecards part of new 'golden age for greetings,' says executive.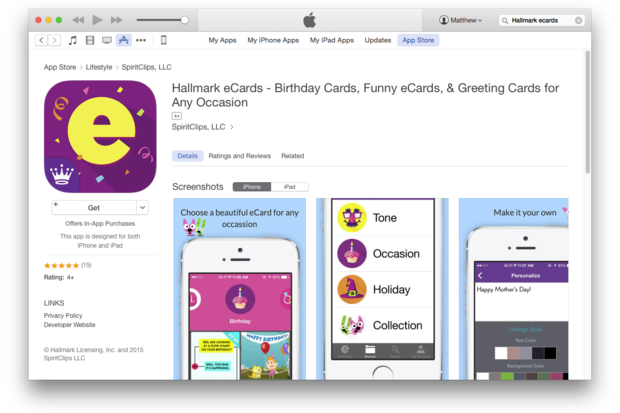 Hallmark launched a mobile app for its ecards. Credit: Hallmark
Hallmark, one of the world's oldest and best-known greeting card companies, launched its first Hallmark eCard app for the iPhone and iPad on Thursday.
The new app, which will eventually make it to Android devices, isn't just about ecards. It's part of a broader mission within the Hallmark eCard division to help users connect more deeply through mobile devices and social networks than they do today, said Dan Kessler, general manager of Hallmark eCards.
"We're talking about depth versus breadth" of social communications, Kessler said an interview. "If you post 'Happy Birthday' on somebody's Facebook wall, at the end of the day you're really just a number, a little red number at the top of somebody's Facebook page. What we're trying to provide artistically and technologically is a way to communicate more deeply."
Facebook, WhatsApp and other social networks often provide social interactions without much meaning, he said.
"We're entering a golden age for the greetings business," Kessler said. "There's an ongoing backlash against soulless communicating, and people are going back to a time of where it matters to say 'Happy Birthday.' I could just write it on somebody's wall or [instead] send a card or an ecard."
Kessler's description of a 'golden age' might be an exaggeration. Still, there's little question that mobile devices are opening a big door for ecards, said Natasha Rankin, executive director of the Greeting Card Association in Washington, which has 150 members, including Hallmark and American Greetings as its largest members.
"As with every company, Hallmark is recognizing wisely that to stay relevant, expanding into mobile is essential," Rankin said in an interview. "There's definitely an expansion toward leveraging technology."
Ecards are still relatively small compared to paper cards, with about $274 million in revenues for U.S. ecard companies, according to the analyst firm IBISWorld. Paper greeting cards and related products were a $6.1 billion industry in the U.S. last year, but have declined nearly 4% each of the past five years.
Rankin said that market sizing for ecards may be too low because there's a debate on how to count revenues from greetings that start online as ecards, but allow a sender to digitally sign a card on a touchscreen that is sent by a company to a recipient as a physical card through the mail.
Apps such as Handwrytten and Felt, among others, merge the digital and paper card worlds, while Spreengs even allows attaching a video shot from a smartphone to be attached to a physical card. None of these capabilities are in the current Hallmark eCard, but Kessler said more announcements are coming.