Gotta catch 'em all: 5 facts that prove Pokémon Go is eating the world
More people are looking for Dragonites and Hitmonlees than hot dates.
4. If you upload it, they will come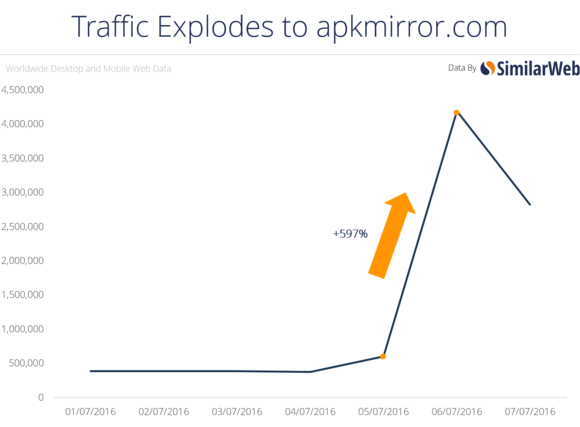 The rest of the world wasn't willing to wait for Pokémon Go's official international rollout. When APKMirror uploaded the app to its servers, users came looking for it in droves. (APKMirror is an unofficial site where you can download Android apps, or APK packages, and sideload them onto your phone.) SimilarWeb says APKMirror received around 600,000 visits on July 5. That number jumped to 4 million on July 6.
Between early June and July 7, nearly 20 percent of desktop search traffic for the site came from the search query, "pokemon go apk."
5. Pokémon Go fallout
Pokémon Go isn't all fun and games, however. The app is also having some odd side effects. We recently reported that particularly savvy criminals were luring unsuspecting gamers to remote locations in order to rob them. Online criminals are also attempting to lure unsuspecting Android users into downloading fake versions of the game loaded with malware—something to keep in mind if you resort to an unofficial download in a country where Pokémon Go hasn't been released yet.
Gizmodo, meanwhile, created a hilarious compilation of people complaining on Twitter that they were sore after overusing their atrophied muscles to collect Pokémon all over town.
Pokemon GO is just insane right now. This is in Central Park. It's basically been HQ for Pokemon GO. pic.twitter.com/3v2VfEHzNA

— Jonathan Perez (@IGIhosT) July 11, 2016