Google's Pixel phones: 7 essential technical upgrades we want to see
It looks like "Nexus" is out, and "Pixel" is in. This is what we hope to see as Google updates its flagship phones.
Wireless charging
Being able to plop your phone down on your desk (on a charging pad) and top it off is incredibly handy. Phones with full metal bodies have trouble with wireless charging, but it sort of looks like the Pixel phones have glass on the top portion of the back. Hey, they're going to need some place for an NFC antenna, and wherever you place NFC, there can also be a wireless-charging receiver.
Wireless charging is incredibly convenient, but it's hard to get it working with metal phone cases.
I would prefer that the Pixel phones followed the Qi standard, simply because it seems that most of the accessories are Qi rather than PMA. But while I'm being greedy, why not follow Samsung's lead and support both standards?
Frankly, with USB-C charging being so fast these days, I don't hold out much hope for wireless charging. But it's still on my wish list.
A headphone jack (on the bottom)
Apple's getting all the credit taking all the heat for killing the headphone jack in the iPhone 7, but it's not the first company to do so. The Moto Z and Moto Z Force shipped without headphone jacks. Hell, the Oppo R5 dropped the headphone jack back in 2014!
And yeah, I know, the old 3.5mm jack is probably on its way out. But there's a right way and a wrong way for the industry as a whole to make this transition.
The wrong way is to simply stop supporting it, breaking compatibility with all the headphones and headsets we've all invested in, forcing us to use (and lose) dongles. Also wrong: dropping the world's most inter-operable connection for a proprietary jack like Apple's Lightning connector. Lightning headphones won't even work with Apple's own computers! At least Android phones are moving to the industry-standard USB-C.
The right way to move away from the 3.5mm plug is to put a headphone jack on your phones and tablets, but treat it as vestigial—it's there to work with your existing gear. And USB-C is the way forward.
Various companies work together to ship phones with USB-C headphones, and work with headphone makers to design and market USB-C headphones. You also build great features into the new audio products—really show us why the new way is clearly better. Then, after pushing hard to build a USB-C headphone ecosystem for a year or two, then you can kill the old plug.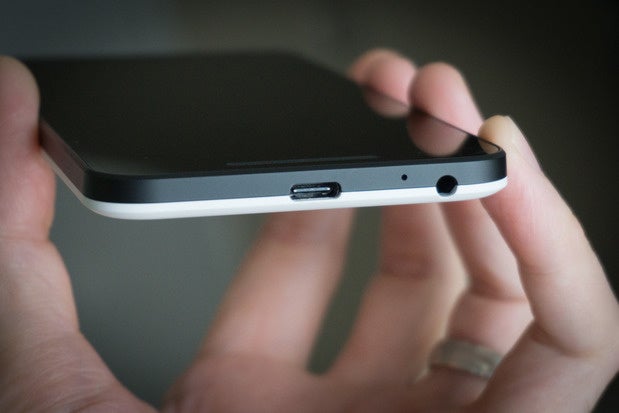 The Nexus 5X had it right: headphone jack on the bottom!
Oh, and the headphone jack should be on the bottom. (The Nexus 6P's headphone jack is up top for some reason, while the 5X's is on the bottom). When you slip your phone into your pocket, you don't want to have to turn it around so the headphone cord is pointing up. When you're charging and using headphones at the same time, you don't want cords coming out of both ends of your phone. And if you mount your phone in a car and run audio out of the headphone jack (maybe you don't have Bluetooth), it's a lot less messy to have the charge cable and headphone jack coming out of the same end.
Previous Page 1 2 3 4 5 Next Page