Google I/O 2016: What to expect from Google's epic developer's conference
Android N and virtual reality will surely be hot topics of discussion, but how much will Google's new conference venue influence the company's biggest event of the year?
Virtual Reality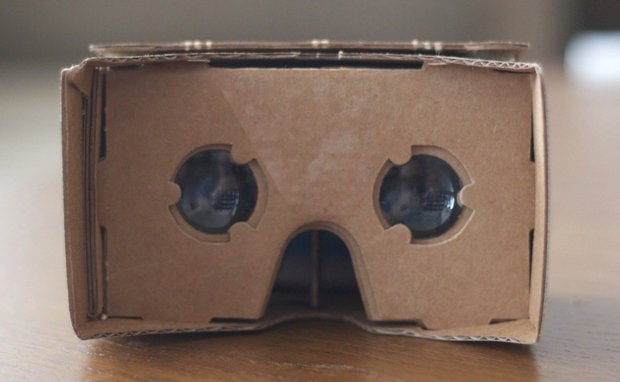 This year, Google's VR efforts will likely expand beyond this little cardboard box with eyes.
What we already know: The virtual reality train at Google headquarters appears to be an unstoppable force. As we already mentioned, the Android N alpha preview offers expanded support for VR, hinting at a future of virtual-reality-ready applications. But there's more coming. With seven different sessions on the docket devoted to virtual reality, including a session on developing for Project Tango, Google I/O could quickly turn into a VR show.
What Google could reveal: Clay Bavor, vice president of Google's VR division, has said in the past that the company's virtual reality story won't stop at Cardboard. And a sly tweet from Peter Rojas suggests we'll likely see the extent of that at Google I/O.
Android VR will definitely be announced next week, and from what I've heard will be less powerful than the Vive or Rift.

— Peter Rojas (@peterrojas) May 11, 2016
Apparently, the Android VR platform will officially make its debut at I/O, alongside the reveal of both a standalone VR headset and a smartphone-driven one. Note that this particular virtual reality platform is not Project Tango, which uses motion tracking and advanced cameras to deliver augmented reality. We'll also hear more on the Project Tango smartphone that Google and Lenovo are launching this summer (though rumors point to Lenovo leading the fanfare on that one).
Unlikely, but awesome: Google will give everyone in attendance a pair of virtual-reality headsets to take home.
Change of venue

We would have never guessed Google would host I/O at this outdoor concert venue. Credit: Daily Republic
What we already know: Google has always hosted Google I/O's 5,000 attendees at the Moscone Convention Center in downtown San Francisco. But this year, Google chose to host the developer's conference at the Shoreline Amphitheater in Mountain View—about 42 miles away.
What Google could reveal: Moving I/O to the much larger Shoreline Amphitheater may simply be a matter of practicality, especially if big, showy product demos are in store. At Shoreline, there would be ample space for Android Auto demos, real-time VR demos, and, yes, the aforementioned self-driving car demos. Indeed, since the self-driving fleet is likely somewhat tethered to Mountain View, Google may be motivated to keep the cars local instead of hauling them up to San Francisco.
But this may also be less less about expansive outdoor demos, and more about increasing attendance. Shoreline is a much bigger space than Moscone, so expect a bigger conference with more attendees. We also have to imagine that Google I/O will become Alphabet I/O, especially if Shoreline becomes a permanent venue. And who wouldn't want a glimpse at what the company is making behind the scenes in its secret laboratories.
Previous Page 1 2 3 4 Next Page