Good news for home theater fans: Yamaha releases DTS:X firmware, while Denon and Marantz adopt Auro-3D
Yamaha joins the growing list of manufacturers releasing DTS:X upgrades, while Denon and Marantz up the ante with Auro-3D support on select A/V receivers.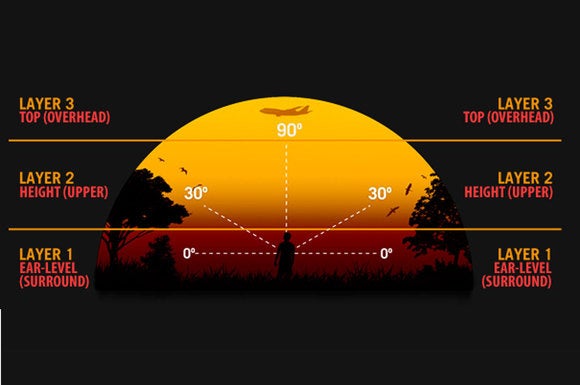 Immersive-audio formats can be visualized as operating in layers.
Customers who are looking to upgrade to Auro-3D should note that the on-wall and in-ceiling speaker layouts differ between Auro-3D and Dolby Atmos. Consequently, you can't run both Auro-3D and Dolby Atmos at the same time. DTS:X, on the other hand, can use either Auro-3D and Dolby Atmos' speaker layouts because of its layout-agnostic architecture.
Knowing that some customers will want the option to run all three immersive-audio layouts, Denon and Marantz implemented a universal immersive-audio speaker layout that uses front and rear height speakers for all three formats. Denon's and Marantz's universal speaker layout resembles Auro-3D's and does not mandate in-ceiling speakers, making it a potentially excellent compromise. Selecting the universal speaker layout will allow customers to use all three immersive-audio formats on supported Blu-rays and legacy content.
No matter how you slice it, it's a great time to be a home-theater enthusiast. The solid adoption of Dolby Atmos; the ongoing rollout of DTS:X; and now the growing availability of Auro-3D gives consumers an ever-growing set of options to bring the benefits of immersive audio home.