Get a bigger picture with an ultrawide 29-inch display
Ultrawide displays are here, and Macworld Lab takes a look at offerings from AOC, Dell, and LG.
NEC MultiSync EA294WMi

NEC's new ultrawide display, the MultiSync EA294WMi () uses LED backlights, a high-quality IPS panel, and multiple inputs. But what sets it apart from its ultrawide rivals is its exceptionally flexible stand, which offers height adjustment, tilt, and swivel capabilities and can even pivot into a very tall portrait orientation.
The EA294WMi provides five types of connections: DisplayPort, single-link DVI-D, dual-link DVI-D, HDMI, and VGA (two ports). The display comes with niceties like a four-port USB 2.0 hub and integrated speakers. The speakers sounded okay and would be perfectly fine for playing system alerts; but for listening to music, I preferred the sound from my MacBook Pro's internal speakers.
Using various test images on both Mac and PC systems, I found no stuck or dead pixels on the EA294WMi's screen. Text was clear and legible, colors looked accurate, and grays appeared neutral. I encountered no issues with color uniformity across the wide display.
The EA294WMi's IPS panel, which supports a 178-degree range of viewing angles from the sides and top to bottom, enables the display look great from virtually any screen-facing viewpoint. Even when I pivoted the monitor into portrait mode, colors remained consistent as I moved from side to side of the screen.
A 29-inch ultrawide monitor in portrait orientation is extremely tall. I'm not sure who would want to use the screen in this manner on a desktop, but having the option is always nice.
The EA294WMi supports MHL, which allows you to connect a compatible Android device to the display's HDMI port to enjoy the content from your mobile device on the big screen. The monitor doesn't support daisy-chaining monitors via DisplayPort 1.2, but it does come with a ControlSync cable that lets you control multiple NEC monitors.
LG 29EA93P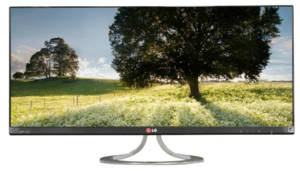 The 29EA92P has the most stylish design of the four ultrawide displays I examined. From the front, its thin black bezel looks similar to those on the AOC and Dell monitors; but the back of the case is composed of white plastic, and its edges and stand are chromelike. The stand, though attractive enough, offers a very limited adjustment options, with just a few degrees of tilt. You can't alter its height, and it doesn't swivel or pivot.
Being an IPS panel, the 29EA93P provides a generous range of good off-axis viewing angles, exhibiting minimal color shift and loss of contrast when your eyes move leftward or rightward from the center of the screen. Video and games played well, colors were nicely saturated and pleasing, and text was easy to read, even at small point sizes.
Previous Page 1 2 3 4 Next Page