Get a bigger picture with an ultrawide 29-inch display
Ultrawide displays are here, and Macworld Lab takes a look at offerings from AOC, Dell, and LG.
The stereo speakers on the Q2963PM are poorly located on the left and right sides of the base, behind the center of the display. They don't sound terrible, but they emit sound parallel to your ears instead of toward them. You'll be happier with the audio from even the most modest set of desktop speakers.
The Q2963PM's stand supports little in the way of ergonomic adjustment: There are no options for adjusting the height, for pivoting, or for swiveling—and it allows just a few degrees of tilt.
The Q2963PM has a lot of non-Mac related features. MHL (Mobile High-Definition Link) pernits mirroring of Android devices (AOC provides the necessary cable). The monitor also supports DisplayPort 1.2 multistreaming, which allows you to chain several monitors together—as yet, Macs don't support this feature. And AOC's bundled, PC-only Screen+ software lets you divide your screen into multiple zones.
Dell UltraSharp U2913WM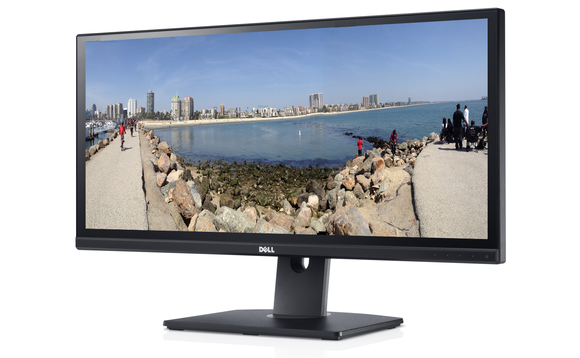 Dell's UltraSharp U2913WM offers a generous amount of ergonomic flexibility, with several inches of height adjustment and a stand that both tilts and swivels.
The monitor has all of the inputs you're likely to need: DisplayPort In, DisplayPort Out, dual-link DVI, Mini DisplayPort, HDMI, and VGA. You'll also find a handy USB 3.0 hub for connecting peripherals such as mice, keyboards, and external hard drives. Dell provides a Mini-to-Standard DisplayPort cable and a USB 3.0 cable in the box.
The U2913WM's IPS panel afforded great off-axis viewing, with very little color shift as my eyes moved left or right from the center of the screen. Colors were saturated and looked pleasing, once I figured out how to turn off the annoying Autocolor feature that tries to optimize the screen settings according to the application being used.
I found Autocolor to be a little freaky, to be honest. After looking at a test photo, I clicked a browser window—and the whole screen turned a pinkish color. When I tapped back to Photoshop, the colors returned to their prior values. On a display designed for multitaskers, having automatic color shifting turned on by default seems distinctly odd. On the positive side, text was easy to read, even at small font sizes, and movies and games played back smoothly.
When I ran DisplayMate's black-screen, stuck-pixel test, I encountered two stuck subpixels: one blue and one red. They weren't in the same area of the screen, and I could detect them only when running the test screen. Dell's website has details on how it handles displays with stuck pixels.
PC-only features include DisplayPort 1.2 daisy-chaining support and the bundled Display Manager application, which lets you select zones that windows snap and expand to as you drag them.
Previous Page 1 2 3 4 Next Page