GeForce Now review: Nvidia's 'Netflix for PC games' is impressive, but impractical
Nvidia's server-based game service performs surprisingly well with the proper setup, but there are still too many reasons to stay away.
Nvidia also enforces a couple of other rules as you play: Only one stream is allowed per account at a time, and if you idle for too long (about 15 minutes, in my experience), you'll get booted from your session. It's best to hit a save point before pausing for dinner.
Despite all these potential obstacles, GeForce Now is still pleasant under ideal conditions. My Nvidia Shield Android TV would typically hum along in games at 60 frames per second, with only the occasional (and minor) glitch. Yes, the controls aren't as responsive as in native PC gaming, and serious gamers won't have any problem noticing this. But they're not laggy enough to make gaming unenjoyable, even in first-person shooters such as Borderlands.
It works! Now what?
While I've spent plenty of time testing GeForce Now over the last couple of weeks, I still haven't felt compelled to use the service in my leisure time. As someone who already owns gaming consoles and a gaming PC, dedicating time to GeForce Now feels wasteful.
Part of the problem is that your GeForce Now library is entirely separate from any PC games you already own. Nvidia does offer download codes on either Steam or GOG for its standalone purchases, so you're not stuck with only a streaming version. But purchases on those digital distribution services don't flow in the opposite direction. Besides, owning both copies doesn't help much given that you can't transfer your saves between GeForce Now and your local PC copy.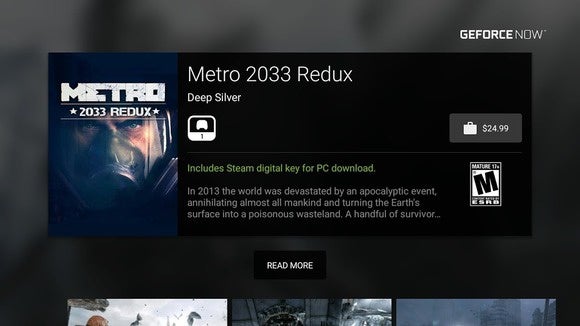 Owning both the GeForce Now and Steam versions of a game isn't especially useful.
GeForce Now's siloed nature makes a subscription hard to justify if you have any other gaming options at your disposal. Instead of being something you might use on occasion—for instance, when you're outside the house, or in a different room than where your PC resides—Nvidia is effectively requiring a 100 percent commitment.
But that's a ridiculous expectation, for several reasons. For one thing, the gaming library is tiny compared to every other game console or PC game service, and lacks options from numerous major publishers, including Activision, Electronic Arts, Ubisoft, and Bethesda. Nvidia once said it wanted to offer 100 games at launch, but GeForce Now has fallen well short of that goal, with just 68 games in total. Of those, 60 are part of the $8 per month subscription plan, while the other 8 must be purchased outright at prices ranging from $20 to $60.
GeForce Now also doesn't support online multiplayer, either through its own service or existing ones such as Steam or GOG Galaxy, which means you won't get achievements from those services either. In games that should support multiplayer, you'll get error messages when trying to initiate a session.