G-Sync vs. FreeSync FAQ: How variable refresh rate displays make PC games super-smooth
Imagine games without stuttering or tearing. Games without ghosting. Two rival technologies both promise that—learn more about them here.
Are there any deal-breakers to choosing either one?
In our experience, no. Both will greatly improve your gameplay experience.
A minor niggle, however: As things stand right now, both technologies work only with DisplayPort inputs, meaning the vast majority of TVs are locked out of the equation. That's bad news for folks rocking an HTPC or perhaps an upcoming Steam Machine in their living rooms over HDMI. AMD may come to the rescue in the near future, as the company recently demonstrated an early version of FreeSync working over HDMI. Nvidia currently has no announced plans to incorporate HDMI into G-Sync.
Closing thoughts
Both FreeSync and G-Sync work exceptionally well at combating the decades-old visual problems plaguing PC gaming. Neither has an exclusive feature compelling enough to warrant switching camps, however. Nvidia has a slight advantage at the very low and very high end of the frame rate spectrum, and its G-Sync does a better job with ghosting, but these are what we'd call edge cases that won't affect the vast majority of gamers. On the other hand, AMD has a price advantage with comparable FreeSync monitors clocking in at an average of $100 to $150 less.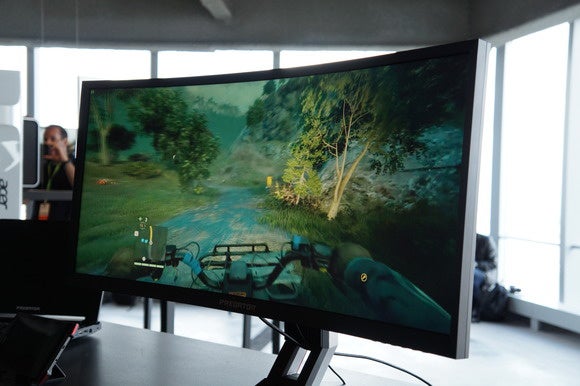 Caitlin McGarry
Acer's curved, ultra-wide 3440x1440 XR341CKA G-Sync monitor.
Whichever you choose, we enthusiastically encourage you to jump on the variable refresh rate train, as long as you're okay with the fact that you're locking yourself into purchasing graphics cards from the same brand for the life of the display. If you're rocking Radeon, make FreeSync your next monitor upgrade. If you're gaming with GeForce, take a good hard look at the crop of G-Sync options. It can't be stressed enough how dramatically they improve a game's immersion, and how effectively they eliminate nasty screen tearing, stutter, and input lag, all without introducing new problems into the mix.
I'll go on record saying that if given the choice between a non-G-Sync/FreeSync 4K monitor and a smaller, G-Sync/FreeSync-enabled 1440p monitor, I'll choose the latter every single time. It's just that awesome. Find a way to witness it for yourself and you'll be convinced.
Previous Page 1 2 3 4