Forget Super Bowl 50: Let's crown the cabling Installer of the Year!
Competitors are wired for BICSI's 9th annual Cabling Skills Challenge.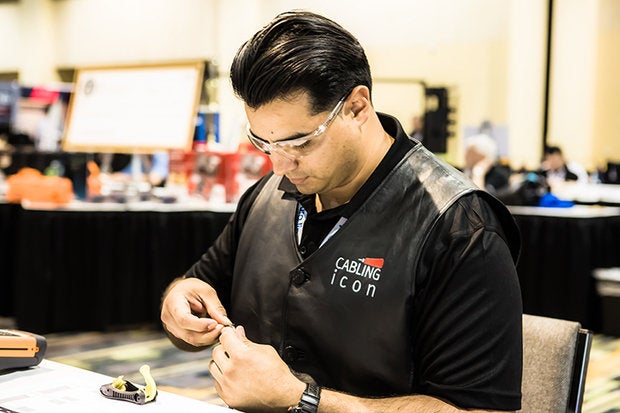 2015 Installer of the Year Alberto Luna says staying calm is key to winning the BICSI Cabling Skills Challenge. Credit: BICSI
There will be bonding. There will be splicing. And there will be firestopping.
Yes, it's time to roll up your sleeves, de-fog your goggles, climb your ladder and get ready for the 9th annual BICSI Cabling Skills Challenge next week in Orlando, where the Installer of the Year will be crowned and awarded a $5K prize (not to mention a towering trophy).
This will definitely beat the NFL's Pro Bowl as a competition fix during the seemingly endless lead-up to Super Bowl 50 on Feb. 7.
The Installer of the Year needs to be versatile, good with his or her hands, and smart to boot.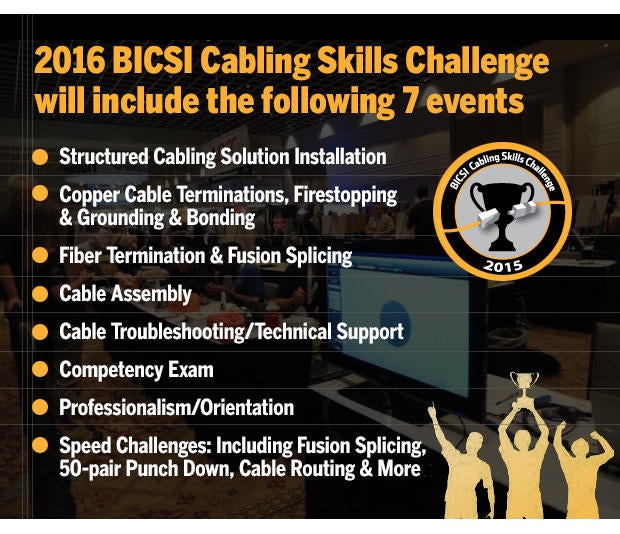 Credit: NetworkWorld, BICSI
The competition takes place on Feb. 1 and 2 right on the show floor at the annual BICSI Winter Conference & Exhibition for cabling design and installation professionals, who will attend sessions with titles such as "Design and Deployment of Reliable Physical Infrastructure Networks for the Industrial Plant Floor" and "Designing Wi-Fi Networks for High Capacity." The installers and technicians who tangle at this event will be surrounded by attendees visiting expo floor booths promoting everything from the latest in Ethernet cable assemblies to wireless locks to what one exhibitor calls "patch cable the way it should be."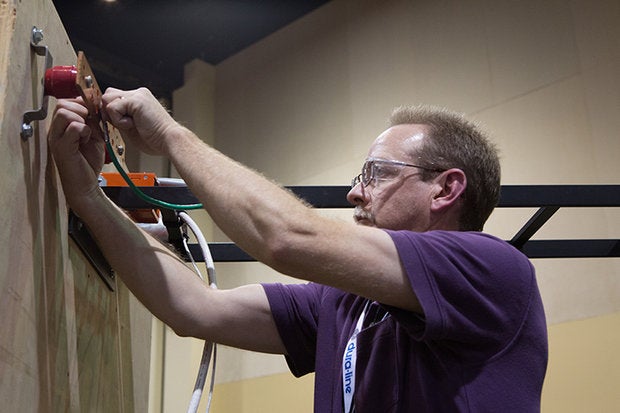 BICSI Cabling Skills Challenge competitors need to do it all. Credit: BICSI
(You can check out some of the action from 2015's event, starting at about the 1:28 mark of this video.)
This year, 15 competitors from as far away as Japan and Australia have signed on to test their skills at the Cabling Skills Challenge. Among them is Alberto Luna, a project manager at Total Network Consulting in the Atlanta area who says he has been in the business for 18 years, initially as a cabling technician and now on a path towards sales and business development.
He'll seek to become the third back-to-back champ, possibly following in the footsteps of Lee Renfroe, who ruled in 2012 and 2013, and Jessie Spearman, who took top honors at the very first three events. Odds makers no doubt are aware of Luna's track record, which includes a previous win as Cabling Icon in a separate contest to find "the world's best low voltage installer or technician."
While Luna wouldn't bite at my suggestion that he has become a bonafide celebrity in wiring circles since last year's victory, he acknowledges that the honor is something he is proud of. It tops his LinkedIn profile and also adds zing to his email signature.