Five to Try: Pac-Man 256 is a remixed arcade addiction, and Bing preempts Google's Now on Tap
Another month, another great Pac-Man game? That seems to be the case. After Pac-Man Championship Edition DX put a fresh spin on the old classic in late July, this week sees the release of Pac-Man 256, an endless runner remix designed by the makers of the awesome Crossy Road. And it's free, so there's no reason not to give it a shot.
With the new Snapshot feature, it can do much the same: hold down the home button when browsing the web or using YouTube, for example, and Bing will provide contextual options. For example, if you're looking at a movie trailer, Bing will pull up a card about the film and point you towards reviews and tickets. Reading about a travel destination? Flight and hotel links will appear. It doesn't seem quite as polished or impressively nuanced as Now on Tap appears, but at least you can try this one out today.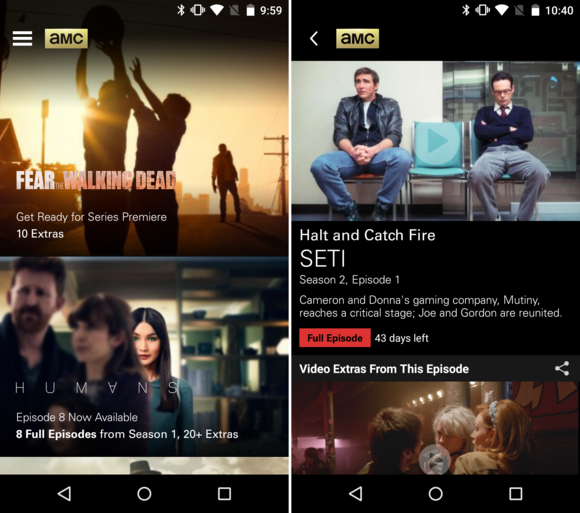 Cable and satellite subscribers can access full episodes of AMC shows, but the selection is pretty limited.
AMC has produced some of the most captivating television of the past several years, with hits like Breaking Bad, Mad Men, and The Walking Dead leading the charge, and now the cable network has its own Android app. It's not quite an HBO Go-level offering, however: only a handful of shows are featured, and the backlogs aren't anywhere near comprehensive.
You'll need a cable or satellite subscription to login and access full episodes, but even so, you'll find just three episodes of Breaking Bad, for example, and none of Better Call Saul. I only found Mad Men by searching for it, and even so, all the app has are behind-the-scenes clips. But if you're watching an active show like Humans or Halt and Catch Fire, it might be a good way to keep up each week. Sadly, as user reviews so helpfully point out, there's no Chromecast support for now.

If you can work your way through the unexplained puzzles, The Guides promises a building storyline.
In stark contrast to Pac-Man 256's arcade accessibility comes The Guides ($1), a puzzler that throws you right into the deep end with no clear idea of what you're supposed to do. It promises hundreds of codes, ciphers, and other visual puzzles to work through, albeit without an introduction or a hand to hold: right from the initial menu, you'll have to try and figure out what's going on.
It's the kind of game that you might want… a guide for, no? Well, developer Kevin Bradford is happy to help there. Sort of. Releasing alongside the game is The Guides Compendium ($1) an optional companion novel-in-an-app that provides context for the experience and perhaps even subtle clues. The approach is similar to that of the excellent Year Walk on iOS, which also had a full experience that spanned two apps. Are you persistent enough to uncover The Guides' secrets?