Fit the chart to the story, not the data
Finding the best chart to show your data is more about the stories contained within the data than it is about the data types.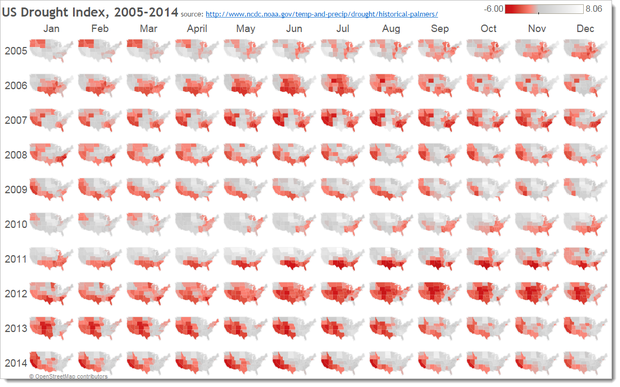 US Drought Index, 2005-2014. Click the image to enlarge. Credit: Andy Cotgreave
The small multiple map is amazing for the drought data; I can see national and regional intensity as it changes throughout a year. The U.S. Road Fatalities data contains similar fields (state, date, etc.) so therefore it too should make a great small multiple, right? Wrong. Here it is: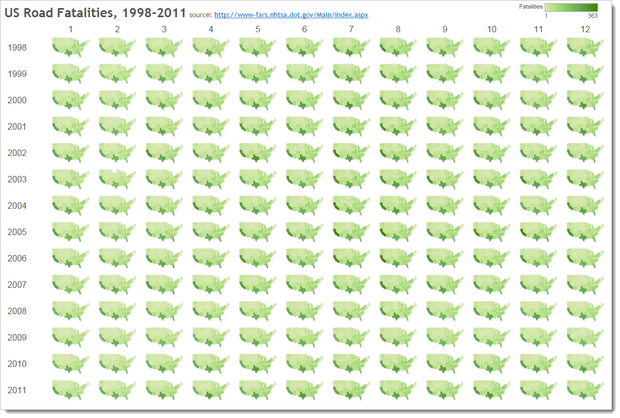 US Road Fatalities, 1998-2011. Click image to enlarge. Credit: Andy Cotgreave
Boring isn't it? Why is that? It turns out that there just aren't any interesting monthly variations at the state level. This data does contain incredible geographical and time-related stories, but the small multiple map does not reveal them.
Here are three simple steps you can take to get this right:
1. Know the guidelines for working with different data types. I highly recommend books by Stephen Few or Ben Jones for the perfect foundation in this area. Once you know the guidelines, you know the starting points for your explorations.
2. Explore your data and iterate quickly. You need to fail fast, and fail often, in order to discover the story in your data.
3. Seek feedback from others. While the story in the chart might resonate with you, there's no guarantee others will get the same message. Get feedback on your charts to be sure your story is clear.