First Look: The no-Touch Bar MacBook Pro still delivers speed, style
The entry-level 13-in. model -- the only one currently shipping -- makes a compelling case for itself
That's the biggest shift mandated by the latest round of MacBook Pro models, and will force owners to make some choices. Buy new peripherals or figure out some way to connect your old peripherals to this new laptop. (Did I mention there will be dongles?)
The trade-off is that you get better specs: a brighter, sharper, deeper Retina display; a new speaker system; the second-generation keyboard; and a lovely, enormous multitouch Force Touch trackpad. Apple trackpads are second to none, and the larger the trackpad, the more you can rely on gestures to use the new MacBook Pro.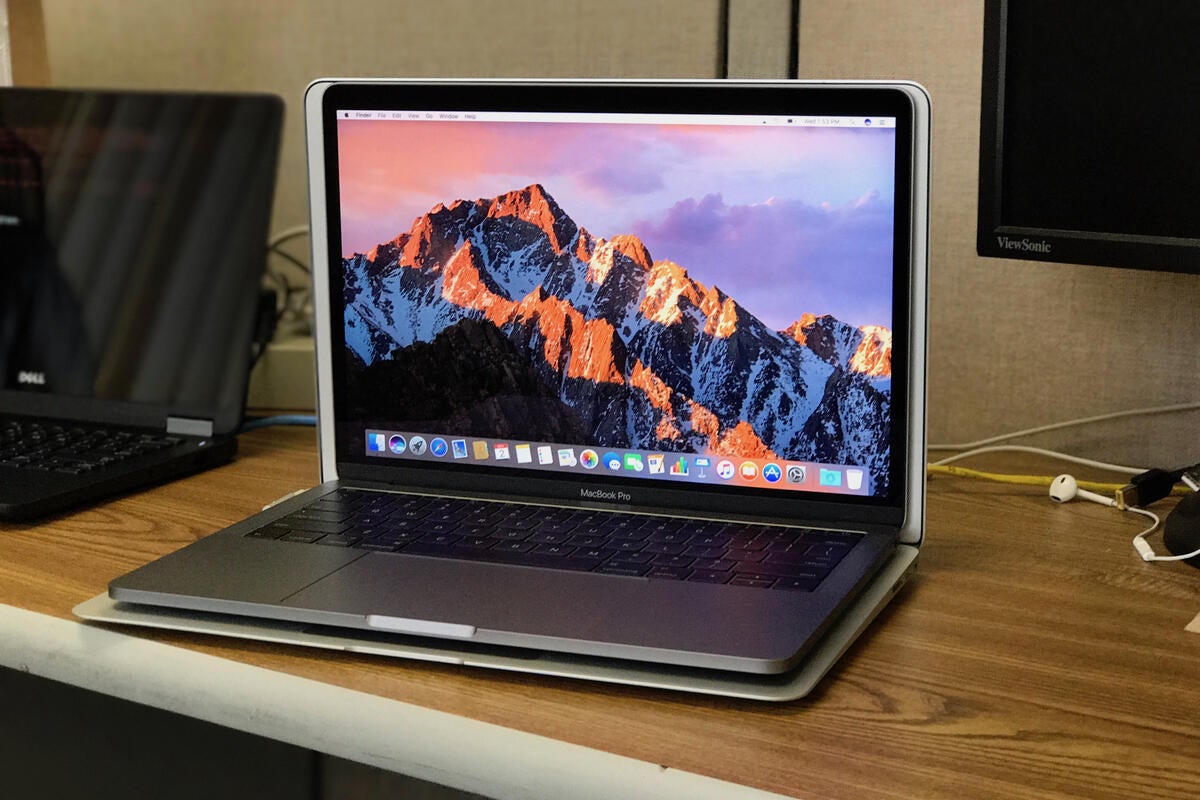 The new 13-in. MacBook Pro sitting in top of a MacBook Air, showing the new model's smaller footprint.
It's also fast. Computerworld's Lucas Merian says it may be the fastest shipping notebook on the market. According to Apple, the 13-in. MacBook Pro has sequential read/write speeds of 3.1Gbps and 2.1Gbps per second, respectively. That's roughly double the read/write speeds of the last generation. (The 15-in. model is marginally faster still.)
With that in mind, I used the Blackmagic Disk Speed Test to check the on-board SSD speeds. Blackmagic showed write speeds up to 1.3Gbps and read speeds that pinned the needle at 2Gbps. So yes, it's as fast as Apple claims, which should bode well for would-be buyers concerned about the laptop's more mainstream CPU and GPU.
In terms of these tech specs, the processor speeds and integrated Intel graphics chipset indicate a computer that's not entirely top-of-the-line. The entry-level MacBook Pro has a dual-core 2.0GHz i5 processor (Skylake) and shared graphics at a time when quad-core processors and a dedicated graphics card are preferred. That's especially true since macOS is tuned for multicore chips, including the use of dedicated GPUs as additional processors.
The pricier 15-in. MacBook Pro, which starts at $2,399, comes with a Core i7 processor and dedicated graphics. So if you need that kind of processing power, you'll need to step up to one of those models.
That said, the super-fast PCIe-based storage and its inherent speed boost goes a long way in real-world use to making up for those less-than-top-end processors in the smaller model.
Bottom line
In short, from the beautiful design to the updated internals there really is a lot to like -- even without the Touch Bar. I've only had a few days to try out the 13-in. MacBook Pro, but I can already tell that while it may not be revolutionary, it's more than an evolution.
First look checklist:
Pros:
Solid construction

Gorgeous design

Fast read/write speeds

Light-weight

Enlarged trackpad

Larger gamut, brighter Retina display
Cons
No Magsafe
No USB-A
No smart card reader
No optical audio through headphone port
No start-up chime or lighted Apple behind the screen