Fenix RC40 review: This flashlight is so powerful, it'll even charge your phone
Fenix's RC40 is 50 times brighter than a 4D flashlight and as tough as nails.
The smartphone may have replaced the flashlight for most consumers, but when you really need to light it up, nothing beats the real thing.
And when it comes to a really good flashlight, it's hard to beat the Fenix RC40. Upgraded this year with the latest Cree XM-L2 U2 LEDs, the RC40 (available for $380 on Amazon), will put out a scorching 6,000 lumens from its six-LED cluster. That's enough output to reach almost half a mile away.
Mind you, a typical 4D alkaline Maglite might hit 122 lumens. Using the RC40 at an abandoned military base, I could easily light up the sides of ginormous aircraft hangers.
The battery and the build
With great output, comes great power though. The RC40 eschews alkalines, which could never support its current draw, in favor of what appears to be a custom gigantic lithium-ion cell.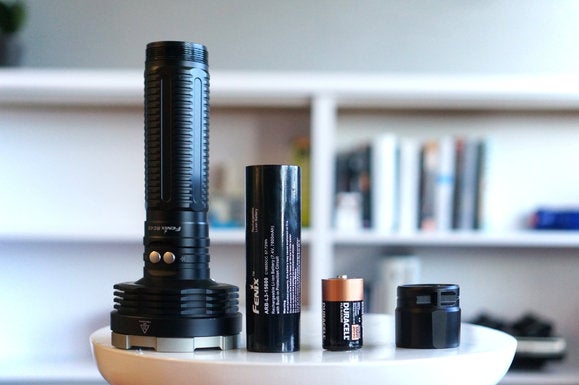 Gordon Mah Ung
You can't get 6,000 lumens out of an alkaline D-cell, so Fenix uses a massive 7,800mA lithium-ion cell (second object from the left).
The battery is the approximate size of two-and-a-half D-cells stacked end-to-end. The battery is charged via a standard barrel charger plugged into the end of the flashlight. Fenix includes an AC power brick as well as a cigarette-lighter adapter.
The power state of the battery can be checked by pushing a button on the end of the flashlight. There's also a USB port that can charge your phone.
Perhaps even cooler, if you need USB power, there's a single USB Type A port on the end of the flashlight, so you can use the power bank to charge your phone or other device. I measured output of the USB port to my Galaxy S5 phone at just under 1 amp.
All of the ports have gaskets and Fenix rates the flashlight at IPX-8, saying it can be fully submerged up to two meters underwater.
Besides being submersible, the RC40 is also tough. During a video shoot, I dropped the light—bezel-side down—from about three feet onto solid concrete. The antireflective coated glass lens didn't shatter and the only damage was a slight deformation of the bezel. Functionality wasn't impacted at all.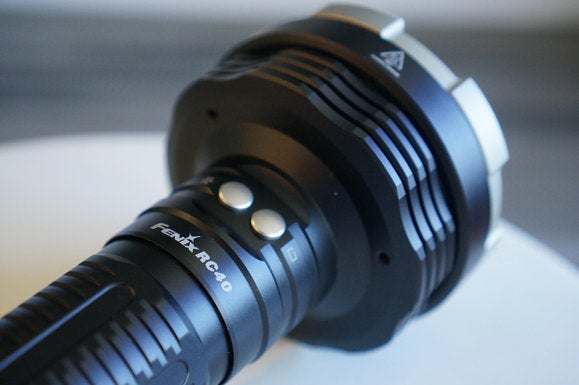 Two buttons let you cycle through power settings and set a safety mode so the light stays off. The fins on the head help keep the LEDs cool during use.
The RC40 in action