Exclusive preview: This is 'Obduction,' Cyan's spiritual successor to 'Myst'
We drove all the way to Spokane and all we got was this exclusive look at the spiritual successor to Myst.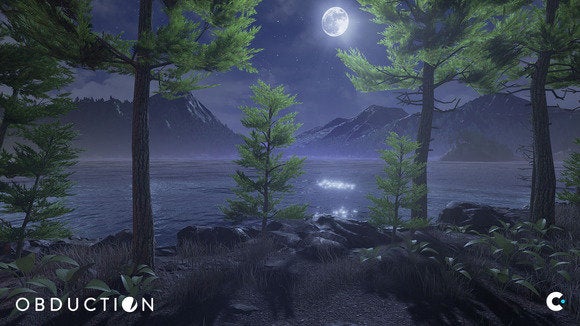 "Actually through the course of designing [Obduction], it swung back around much further to the spirit of Myst games than it ever was at first. It's Myst in space," says Cyan's art director Eric Anderson. "We call [the different worlds] Ages, in-house. We have the equivalent of Linking Books. So yeah, when people play it they're going to say 'Oh, they made another Myst game.'"
I've made the four hour drive from the PAX convention in Seattle out to Spokane, Washington to a small little studio hidden in a grove of pine trees on the side of a highway. It's the building that houses Cyan Worlds, creators of the classic adventure games Myst and Riven, and there's not even a sign out front to let me know I've come to the right place.

The front entrance to Cyan's studio.
But I made it, and now I'm getting to see something I don't think anyone in the public has really seen: A first look at Obduction, the game Cyan successfully Kickstarted to the tune of $1.3 million last fall. Cyan showed off a bit of the "introductory level" at the annual Mysterium conference this year, but I'm getting a real look--a glimpse of two out of the three major worlds that make up the game, albeit in very early stages.
Unfortunately I return without many pictures. Why? It's pretty simple. "We're sort of at a stage in development right now where most of the work we're doing is not very photogenic," says Anderson. Cyan is busy refining the puzzles and making sure the mechanics work before prettying everything up, because as Anderson jokes-but-is-totally-serious, "Turns out art's expensive!"
"We've got a lot of money to do this project, so we're trying to be really smart," chimes in Myst co-creator Rand Miller.
So allow me to paint you a word-picture, I guess.
Forest for the trees

I did get a look at what Cyan's prepping towards--it wasn't all untextured models. The team constructed a demo of the introductory "level" for Mysterium, which is now serving as their target for future assets.
It's gorgeous. Obduction is built on Unreal 4, and wow. The introductory area places the player in a small moonlit forest clearing, a campfire off in the distance. All of the lights in the scene are currently dynamic, including an oil lamp that Anderson picks up and ignites. There's a very strong TheRoom-esquepresence in Obduction--you can now pick up, rotate, and interact with objects in the environment, and those objects might have (for instance) secret doors to uncover or codes scratched into the bottom. "It's the kind of stuff that you wished you could do in Riven when you'd pick up the stuff on Gehn's nightstand," says Anderson.