Exclusive: AMD's amazingly tiny and powerful Project Quantum dissected!
We tear down this little, liquid-cooled, two-story PC to find out what makes it tick.
The answer: VR.
With VR positioned as a hot tech buzzword with billions at stake, AMD could potentially sell Project Quantum machines packaged up with the VR headset of choice. It could be a turnkey product for Hollywood, universities, and corporations. Project Quantum rigs could run small demo kiosks or even be used to build small VR "theaters."
At least, that's what I can conclude. Such a use wouldn't offend its PC partners as much,and it's a context where such a small, cool and powerful box would actually be called for.
Of course, I could be completely wrong. Maybe, just maybe, AMD wanted to spend tens of thousands of dollars and months of work to make a dozen Project Quantum rigs just because it's friggin' cool.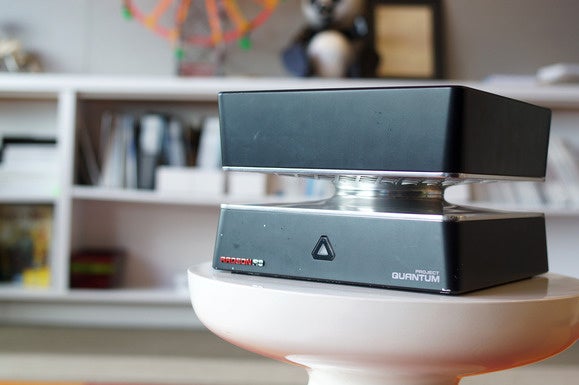 Project Quantum is incredibly cool, but what will it be used for? Credit: Gordon Mah Ung