Exclusive: AMD's amazingly tiny and powerful Project Quantum dissected!
We tear down this little, liquid-cooled, two-story PC to find out what makes it tick.
Here's a look at the front of the motherboard. The Main Power Connector on the motherboard has been rotated 90 degrees and a small PicoPSU-style power adapter plugs into it.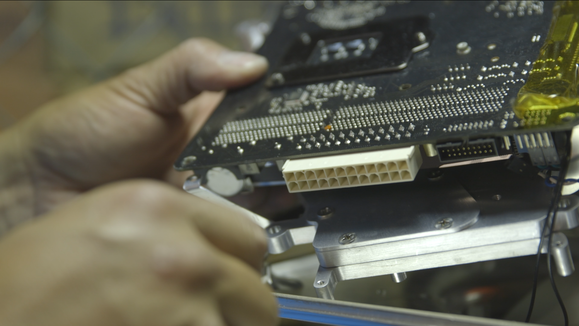 This is actually the front of the Asrock motherboard, facing the rear of the machine. Credit: Dan Masaoka
This is not a DIY build
One thing I'll say about Project Quantum is that it's not an easy build by any stretch of the imagination. Just getting out the water block and motherboard was a serious pain. Every tightly packed cable I pulled represented rebuild time, time in my life i'd never get back. Project Quantum, at least in this state, presents best as a completed or nearly completed product.
I did get it back together, but not before sweating bullets. If AMD ever does manage to turn Project Quantum into a commercial product, I'm sure custom cable length cables will be used. Even then, I'd probably want to buy a Project Quantum, then build it from the ground up on my own.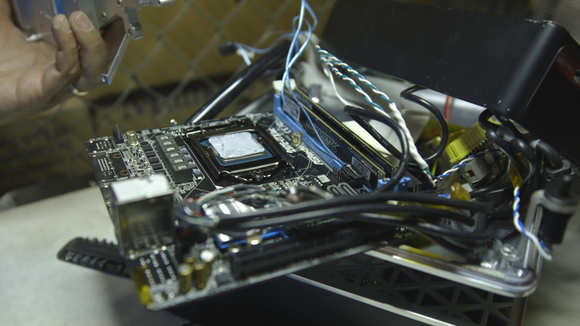 Getting this motherboard out is not for the faint of heart. At one point, I called AMD to see if I could send it back in pieces. I was told no. Credit: Dan Masaoka
One day, it might actually be sold
Project Quantum is indeed an incredible little PC. It ranks among one of the coolest I've seen in a small production run. Yes, I've seen modded PC's that are even more amazing and certainly wired better but those are one-off machines. From nosing around Project Quantum, I can only conclude that AMD actually intends, or at least hopes, to market it.
I make that statement based on the simple fact that there's no other logical reason for Project Quantum. AMD could have just jammed its new Fury X cards into off-the-shelf, small-form-factor case, or hired a modder to craft a few machines, and called it a day. Why burn engineering time and precious (and dwindling) resources to make it?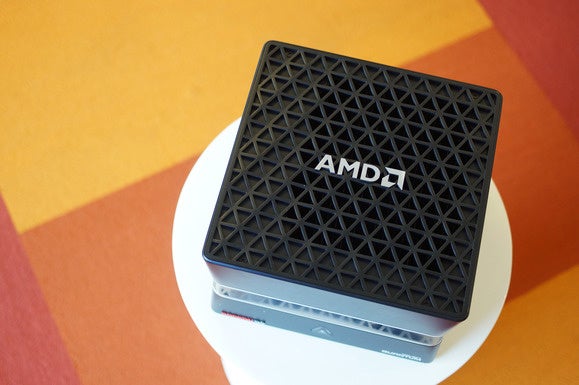 I can only conclude that AMD intends to sell Project Quantum somehow. Credit: Gordon Mah Ung
So if AMD is intent on making Project Quantum, the question is, what would it be used for? The company isn't likely to sell directly to consumers. That would just anger PC OEMs, giving them another reason to run into Nvidia's arms.
Where could AMD sell Project Quantum machines without angering OEMs, and who needs such a crazy-looking and compact water-cooled PC?
Previous Page 1 2 3 4 5 6 7 Next Page