Exclusive: AMD's amazingly tiny and powerful Project Quantum dissected!
We tear down this little, liquid-cooled, two-story PC to find out what makes it tick.
The water block seems to solve the dual-GPU mystery, though. Marked '5,' this block is clearly designed for a single GPU. A dual-GPU version would require its own custom-designed water block. Again, conspiracy nuts, the only thing this proves is that Number 5 wasn't a dual setup.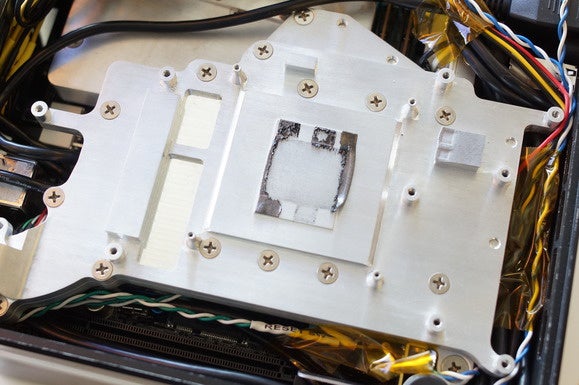 The water block is all custom and a massive honking chunk of machined aluminum. Credit: Gordon Mah Ung
Here's a view of the same water block from the other side. It's a single unit that's sandwiched by the CPU and the GPU. Cooled liquid from the radiator flows through channels milled out of the water block. These little legs mount to the motherboard itself.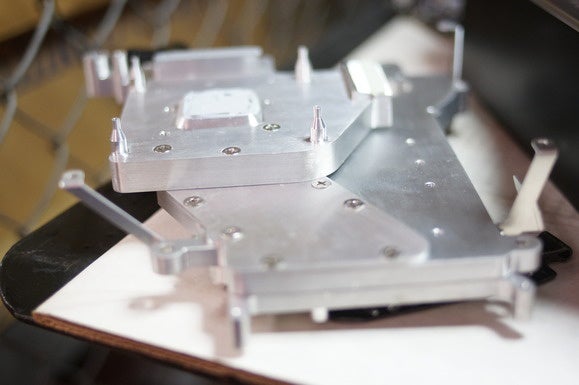 Here's the entire water block lifted out of the machine. Credit: Gordon Mah Ung
That's not true, that's impossible!
Yes Luke, search your feelings, there is indeed an Intel CPU powering AMD's Project Quantum. It's specifically a Core i7-4790K "Devil's Canyon" chip. A lot of AMD FX fan boys will be heart broken to see an Intel CPU inside instead of an AMD PC but there's no real reason to despair. AMD officials have said from beginning they could have based it on an AMD CPU too. But in the here and now, AMD knows who is in charge and it's not Charles from the sitcom show.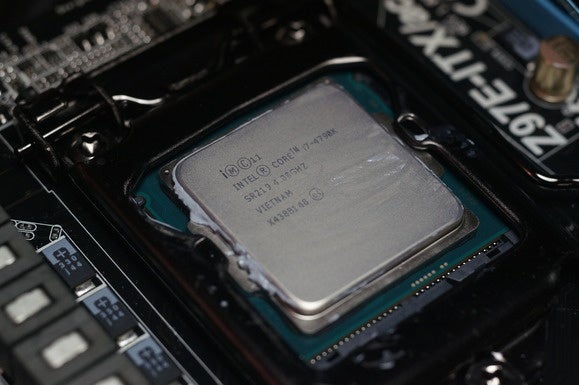 Just in case FX fan boys don't believe it, here's a close-up of the Intel Core-i7 4790K powering this AMD PC. Credit: Gordon Mah Ung
A specially modified motherboard
The motherboard is indeed off-the-shelf, but if you look at the pictures, it's been heavily modified. For a point of reference, this image shows an unmodified Asrock Z97E-ITX/ac board. Note those silver blocks near the top.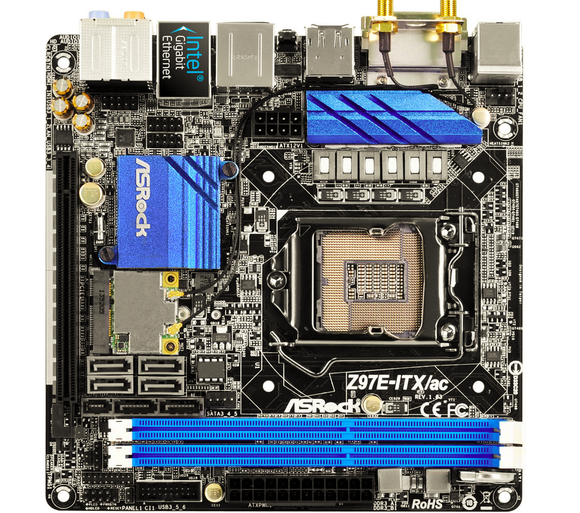 Here's a stock image of the Arock Z97 Mini-ITX board used in Project Quantum. Credit: Gordon Mah Ung
The shot below shows all those silver blocks (of the rear I/O) removed, leaving just the gigabit port. AMD uses a short dongle that plugs into the ethernet port that goes to the back of the machine. Why? You probably didn't realize it from looking at the picture of the back of the machine, but AMD actually mounted the motherboard backwards. The back of the board faces the front of the machine. The whole board is also inverted to make contact with the water block.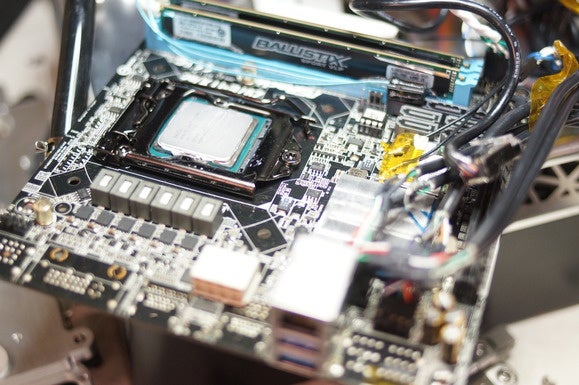 The machine is based on an Asrock Z97 Mini-ITX motherboard. And yes, look again fanboys, that's no AMD CPU. Credit: Dan Masaoka
Previous Page 1 2 3 4 5 6 7 Next Page