Exclusive: AMD's amazingly tiny and powerful Project Quantum dissected!
We tear down this little, liquid-cooled, two-story PC to find out what makes it tick.
While I have nothing to contradict that theory, there are plenty of logical reasons why Number 5 isn't a dual Fury X machine. The most obvious one is that AMD didn't say all Project Quantum machines were dual Fury X-based. Even if only one Project Quantum were dual-GPU, that'd be enough. And because a dual card won't ship for another few months, it's unlikely AMD would leave its upcoming hotness outside its control.

By putting a Fiji XT chip with its HBM memory over a Radeon R9 290X card, you can see just how much space AMD saves with the stacked HBM RAM. Credit: Gordon Mah Ung
There's one other bit of evidence that led me to wonder whether this was the original GPU. The serial number of the system is 5, and several of the components were marked '5,' too. But oddly, the Fury X in the machine above was marked '4.' Maybe AMD just pulled out the dual card to keep it a secret longer?
Here's an image Anandtech.com grabbed at Project Quantum's E3 launch. The motherboard pictured here is roughly 9 inches long, but you can see the chips are closer together and it should fit, just barely, into the Project Quantum chassis.

Anandtech.com grabbed this photo of a dual Fiji XT card at E3.
Getting the Fury X out of the machine is surprisingly easy. I removed several screws and pulled the tensioner that held the card to the water block. Then I just flipped out the entire assembly, including the PCIe right-angle adapter. If you look closely at the GPU, you can see the '4' written on it, which suggests it came from Project Quantum Number 4.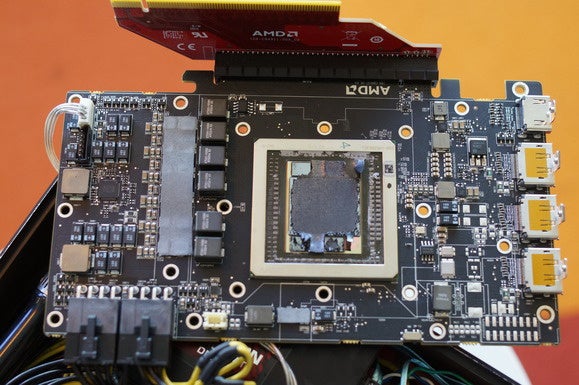 In this shot of the Fury X, it appears to be a stock card and is marked '4.'
A lot of Coke cans died for this
The card interfaces with this massive aluminum water block. Like the case, it's all custom. Water flows through this machined aluminum chunk to cool the GPU and, on the opposite side, the CPU. It's actually a pretty clever take on liquid cooling. In most small-form-factor machines I've seen that come close to this in size, it's either a liquid-cooled GPU or CPU, but not both.
By sandwiching the water block between both, AMD is able to cool both with minimal space and hoses. It is, however, still a massive chunk of aluminum. I was also surprised No. 5's was aluminum. Videos AMD showed of Project Quantum machines previously had water blocks made of copper which is a better thermal conductor but also more expensive, heavier, and harder to work with.
Previous Page 1 2 3 4 5 6 7 Next Page