Exclusive: AMD's amazingly tiny and powerful Project Quantum dissected!
We tear down this little, liquid-cooled, two-story PC to find out what makes it tick.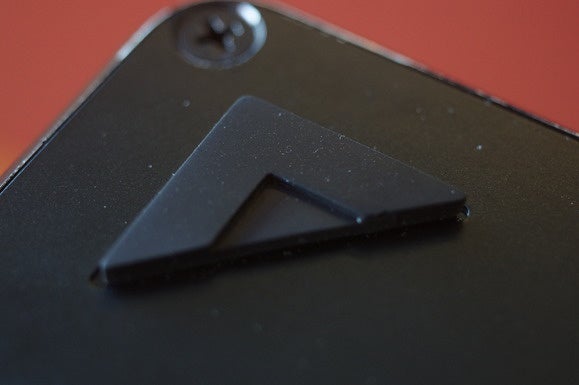 The bottom of lid of Project Quantum features rubber feet using part of the AMD logo. Credit: Gordon Mah Ung
Steve Jobs would have liked these feet
Remember, these feet are on the bottom of the machine, and no one will ever see them. This brought to mind a story I'd heard about Steve Jobs: He argued with engineers about altering the trace routes of an early Apple PC, because he didn't like how they looked. The engineers pushed back, saying no one would see the backside of the motherboard. Jobs said it didn't matter because, like a master cabinetmaker, it's not just about what people can see—it's about having pride in the craftsmanship. You know, like making custom rubber feet that no one will ever see.
Still don't recognize the triangle? If you peep at the next picture, you should. This logo, by the way, is laser-cut or milled into the bottom of the Project Quantum rig.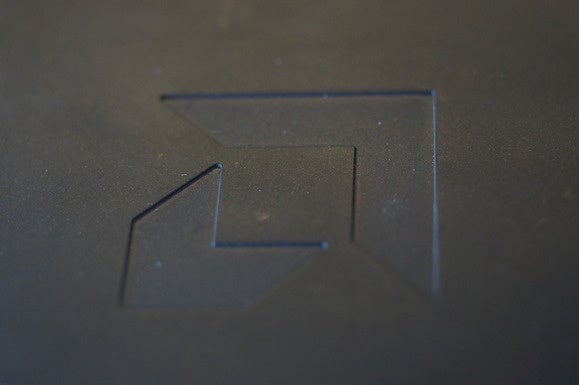 The AMD logo is carved into the bottom aluminum cover. Notice the triangle from the feet now? Credit: Gordon Mah Ung
Made in 'Murica
And if you think AMD just picked out the case from the catalog of some Taiwanese manufacturer, the company says no—it was an in-house effort. Check out the tiny print on the bottom: It was designed at AMD's Austin, Texas, facility.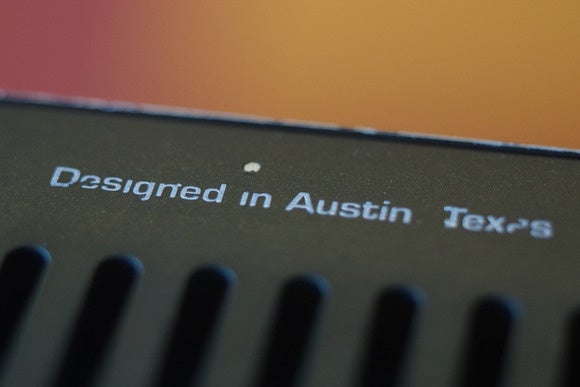 Designed in Texas. Credit: Gordon Mah Ung
Going Inside
Enough with the buildup, let's get inside this rig. Project Quantum features two compartments. The top integrates a 180mm radiator, a pump, and a unique reservoir. A fan sucks in air through the open center section and pushes it up through the radiator and out the top. You can easily get inside by removing four screws at the corners.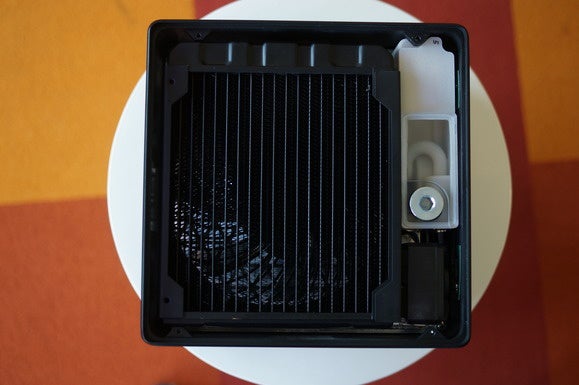 With the lid removed, you can see there's a single large 180mm radiator on top, along with the pump and reservoir. Credit: Gordon Mah Ung
An unconventional PC
While the radiator and pump appear off-the-shelf, the reservoir is built just for Project Quantum. In the past, having a small run of custom reservoirs would be too cost-prohibitive, but the 3D printer revolution has changed everything. This tank is clearly 3D-printed, as is much of the hosing.
Parts of the hose are rubber, but the main lines that carry the liquid between the top half and the bottom half are 3D-printed in hard plastic. I'm not sure why AMD didn't just use conventional hosing, but I suspect the company was concerned the tubes would folding or crimp, cutting off the flow. But then, maybe it's just because this is an unconventional PC.
Previous Page 1 2 3 4 5 6 7 Next Page