Exclusive: AMD's amazingly tiny and powerful Project Quantum dissected!
We tear down this little, liquid-cooled, two-story PC to find out what makes it tick.
It's hard to believe, but AMD's Project Quantum nearly stole the show from the company's big Fury X GPU reveal at the E3 gaming show this year. Sure, fast GPUs are a given from AMD, but a concept PC so exotic, so custom and so powerful? No one expected that.
Beyond teasing us with pictures and some engineering schematics, Project Quantum has been a deeply guarded secret, with access limited only to AMD employees.
Until now.
Join us as we take the world's first public look at Project Quantum outside the control of AMD. For this dissection, there were no nervous marketing or PR professionals looking over our shoulders as we took out our Leatherman. We had unfettered access, and we used it.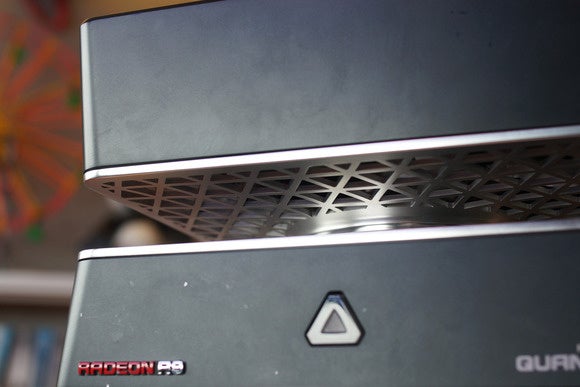 Project Quantum is AMD's concept PC, packing state-of-the-art hardware and full liquid-cooling, too. Credit: Gordon Mah Ung
What you're about to see
For this autopsy, AMD provided one of maybe a dozen Project Quantum prototype machines in existence. Ours was specifically Number 5. We were given free rein to mess with Number 5, with the sole stipulation that we had to put it back together. An off-the-shelf PC is no problem for this veteran of hundreds of PC builds, but the close-quartered Project Quantum would be a challenge.
Number 5 started its life traveling the world as a demo machine for AMD's VR initiative. That's not an easy life, and Number 5 suffered the fate most demo machines do after being manhandled in a dozen cities: It broke. Exactly how I don't know, but AMD said Number 5 was dead, making it the perfect cadaver for my autopsy.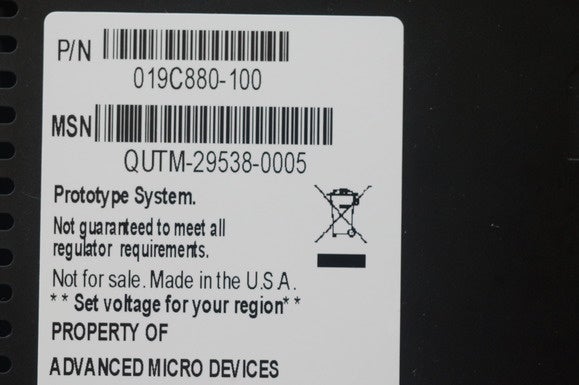 Even the serial number confirms this is Number 5. Credit: Gordon Mah Ung
Why Project Quantum is special
Project Quantum is definitely small-form-factor, measuring 6.5 inches tall by 9.5 inches wide by 9.5 inches deep. A few things set apart from other tiny PCs i've seen up to now. The most striking feature is its outside-the-box design.
As a showcase for AMD's new Fury X GPUs, any $75 PC case would have worked. Instead, AMD decided to rethink how you could liquid-cool an entire PC in a tiny package.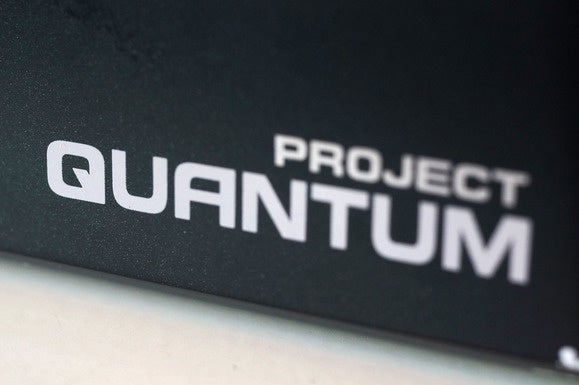 Project Quantum isn't just another PC. Credit: Gordon Mah Ung
Attention to detail
One of the best examples of the nutty attention to detail on Project Quantum are the rubber feet. AMD could have used the little hockey-puck rubber feet I've seen used on everything from $200 budget PCs to $12,000 custom gaming rigs. Instead, the company made them triangular, using a design element from its corporate logo.