Everything you need to know about playing music with AirPlay
Apple's streaming protocol can send audio to a variety of devices. Here's how to make it work for you.
Stream AirPlay over ethernet
You may have discovered that third-party AirPlay devices aren't always ideal. Some devices lose connectivity, or play back music with stutters and pauses. My experience with such devices has been mixed, and I think the problem is that these devices don't have adequate antennas to pick up Wi-Fi signals efficiently. In addition, some hi-fi separates may offer AirPlay but not have integrated Wi-Fi. With some amplifiers or receivers, you can buy an optional Wi-Fi adapter to use them wirelessly.
You can get around this using AirPlay over ethernet. If you have an amplifier or receiver that supports AirPlay and has an ethernet port, connect it to the network; AirPlay works perfectly. I use the Yamaha R-N301 ($300 on Amazon) connected to my network with a powerline adaptor. (You don't need very high bandwidth for audio only.) Streaming is always perfect; no glitches, no dropouts.
Stream AirPlay to a Mac
While Macs can be AirPlay sources, they can also serve as AirPlay targets, with the help of third-party software. I use Rogue Ameoba's Airfoil Satellite (a free addition to the $29 Airfoil app). When this is running, my Mac is an AirPlay target, and I can stream music to it from any other Mac, or from an iOS device.
The Airfoil Satellite window shows what's playing (with album artwork) and gives you controls to play, pause, skip tracks, and change volume.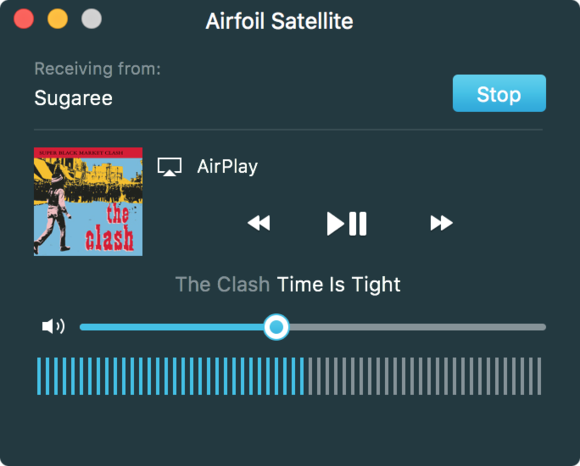 Stream to a Mac with Airfoil Satellite.
Why would you want this? You may want to listen to audio from an iOS app on your Mac, rather than through your iPhone's little speaker, or you may even want to stream from one Mac to another.
Stream from an Android phone
While AirPlay is an Apple protocol, it's wide adoption in the home audio industry has led at least one Android phone manufacturer to support the protocol. The forthcoming HTC 10 will support AirPlay streaming, so even if you don't have an iPhone or iPad, you may be able to use AirPlay.
Streaming to every room is easier now that AirPlay is widely supported. With the above tips, you'll be able to get music to any location in your home.