Evermind review: This minimally intrusive system for monitoring your elderly parent needs to do more
Evermind is a good idea for children who want to ensure their parents are following their usual routines, but there are a lot of things it can't do.
The alerts let me know when my dad turned on the lamps and TV each day. You can set the Evermind.us site to alert you each time that sensor detects an on and an off signal, or only the first on. You can also set timeframes for monitoring, such as only between 8AM and 10PM, and only on certain days of the week or only on weekends.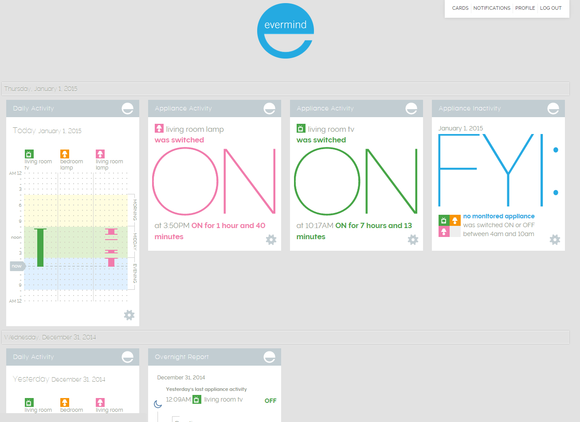 The Evermind web portal tracks when the sensors report devices being turned on and off. You can also configure it to alert you when expected events don't happen.
As I monitored the activity, Evermind started showing a daily history that used some basic machine learning. It noted, for example, how my dad turned on the bedroom lamp each morning at 5:30 AM and turned it off at 8:30PM, and it showed a daily chart that indicated how long he was up each day.
It recorded how often he used the living room lamp (10 to 15 times per day), which I interpreted as how often he was reading. And I was surprised to learn that he used the television only once or twice in an entire week. So I knew he was waking up at a decent time, that he was moving around the house, and that he was sleeping, even if that was based only on his lamp and TV usage.
It's all straightforward and pretty basic, but that's also its biggest shortcoming. Evermind doesn't offer a mobile app, so all you have to go by are the emails and text alerts and then view summaries on the Web. An app that recapped everything so I could see all the information at a glance would be much appreciated.
More importantly, the data is only somewhat helpful. I learned how often my dad reads and sleeps, but not if he was ill, if he was using the bathroom too often, if he was taking his medication, or if he was sleeping well.
It could be argued that sensors capable of reporting some of these details would be necessarily intrusive to his privacy, but a sensor on the front door would let me know if he was going outside for walks, one on the refrigerator or pantry would tell me if he was eating regularly, and another on the medicine cabinet would let me know he was taking his medication and at the appropriate time.
$199 is not at all expensive for the peace of mind that comes with knowing your elderly parent is active and well, but for that and a $29-per-month subscription, I expected to get more ways to monitor my dad's activities. Yes, providing the option to tie Evermind into an existing home-control system--or even just a WeMo light switch, or a Dropcam security camera--would necessarily make the system more complicated, but it would also make Evermind more informative, effective, and valuable.