Dragon Age gets sexy, Assassin's Creed: Unity gets ridiculous, and more must-know gaming news
Plus Mortal Kombat is getting a live-action series, we get a glimpse of the Star Wars Battlefront sequel that never was, and someone threatens Gabe Newell's life.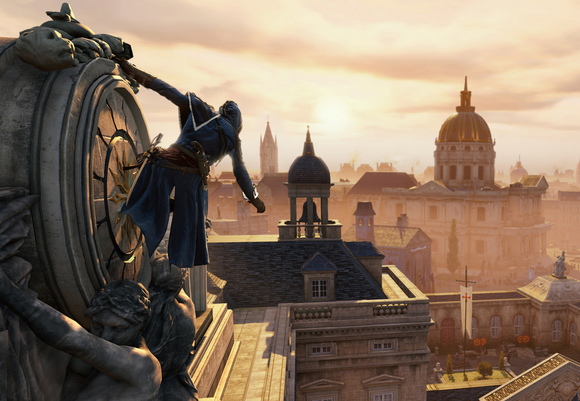 At this point I'm convinced the games industry is doing silly things just to provide material for this column.
John Cena reads poetry, Dragon Age has some disturbing "sexy" dialogue, and we get glimpses of both The Witcher 3 and the deceased Star Wars Battlefront III--this is gaming news you need to know for the week of October 20.
Connect your Kinect
If you bought an Xbox One before they stopped forcing you to buy a Kinect, you can now hook it up to your PC directly--provided you buy a $50 adapter. No, I don't know what the adapter does except make the price for an Xbox One Kinect match the price for a standalone PC Kinect.
And once you've developed a sweet Kinect app with the new SDK, you can even throw it in the Windows Store to rot for all eternity.
John Cena can read
Or, at least, that's the message I think I'm supposed to receive from this WWE 2K15 spot, wherein John Cena reads poetry. Maybe someone told the master of Basic Thuganomics it was a rap.
This is not sexy
Kotaku revealed Dragon Age: Inquisition received an M rating from the ESRB, which isn't surprising in and of itself.
What is surprising, maybe, is the quality of the dialogue it apparently received that M rating for. In addition to the typical qualms about violence, Inquisition's M rating comes on the back of "some dialogue referencing sex/sexuality."
The dialogue in question? "I will bring myself sexual pleasure later, while thinking about this with great respect."
I beg your pardon...?
Get over here
Remember that amazing live-action Mortal Kombat "trailer" from a few years back? The one that had the guy from Black Dynamite in it? Well, we're not getting anything related to that, but Warner Bros. did announce this week that it's formed a new division of the company (Blue Ribbon Content) to create a new live-action Mortal Kombat series, presumably before Mortal Kombat X launches in April 2015.
Let's be honest, though: It'll never surpass the 1995 film. "In each of us, there burns the fury of a warrior."
High expectations
Another week, another set of absurd PC specs for an upcoming AAA game. This time it's Assassin's Creed: Unity, which unveiled its minimum and recommended specs earlier this week.
Minimum specs:
OS: 64-bit Windows 7 SP1, Windows 8/8.1Processor: Intel Core i5-2500K @ 3.3 GHz or AMD FX-8350 @ 4.0 GHz or AMD Phenom II x4 940 @ 3.0 GHzRAM: 6 GBVideo Card: NVIDIA GeForce GTX 680 or AMD Radeon HD 7970 (2 GB VRAM)DirectX: Version 11Sound Card: DirectX 9.0c compatible sound card with latest driversHard Drive Space: 50 GB available space