Devialet Phantom review: Forget everything you thought you knew about speaker technology
This eccentric, powered loudspeaker delivers an unforgettable sonic performance.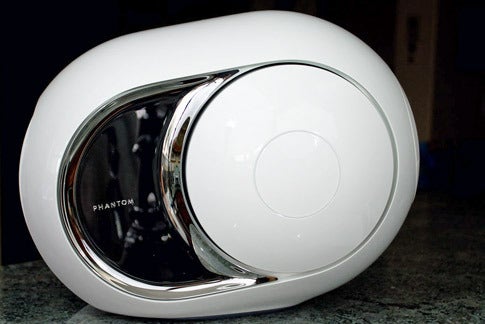 Devialet's Phantom doesn't look like a typical speaker; in fact, it doesn't look like any kind of speaker I've encountered. It certainly isn't designed like any speaker I'm familiar with. Most importantly, it doesn't sound like any speaker I've heard. Like a Mounds candy bar, it's indescribably delicious. But like a box of Fritz Knipschildt's La Madeline au Truffles, it is also very expensive at $1990.
Let's start with the Phantom's cabinet. Single-cabinet speakers certainly aren't new, but the Phantom is a radical departure from the norm. The speaker has an external skin fabricated from a thick wall of ABS plastic that surrounds an inner skin of glass-fiber polycarbonate. This, in turn, is wrapped around an aluminum core. You can play the speaker at any volume and you'll never feel the cabinet vibrate or hear it resonate. Each of its four drivers is completely isolated from the enclosure.
The Phantom is a three-way speaker system consisting of two eight-inch woofers, a one-inch tweeter, and a "ring" mid-range transducer encircling the tweeter that Devialet says is equivalent to a five-inch midrange. The woofers are mounted on either side of the cabinet in a push-push configuration in order to cancel each other's vibration. Motorized domes over the woofers displace air to reproduce extremely low frequencies. These look very strange as they pulsate in and out to the beat of the music, but Devialet says the motors enable the Phantom to deliver bass response all the way down to 16Hz. Most people's ears have difficulty hearing sound at 20Hz, but your body can feel frequencies lower than that and 16Hz is far lower than most dedicated subwoofers can go.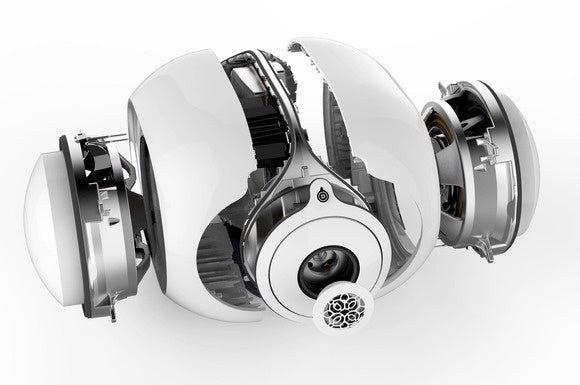 Devialet provided this exploded view of the Phantom so we could better see its internal construction. Credit: Devialet
The tweeter is mounted in the Phantom's nose, for lack of a better word, behind a very pretty lattice grill, and the mid-range completely encircles the tweeter. All four drivers are fabricated from aluminum, a driver material coveted for its strength. Each of the four drivers has its own dedicated amplification channel, formed by one bridged Class A amplifier and two bridged Class D amplifiers for each driver. The Phantom has four bridged Class A amplifiers and eight bridged Class D amplifiers in total.
I don't put much stock in amplifier power specs these days, because they've become rather meaningless. A modern amplifier producing 20 watts can sound louder than a vintage amp producing 100 watts because the new models have become so much more efficient at converting electrical power into sound (yes, I'm grossly oversimplifying the concept of amplifier efficiency). The way I see it, if an amplified speaker can fill one of my larger rooms with sound—something the Phantom had no problem doing—it's going to be plenty loud for most people.