Dell unveils stunning 4K OLED UltraSharp display and declares war on bezels
Dell's 2016 monitor lineup includes a stunning OLED display, InfinityEdge bezels, and wireless phone charging.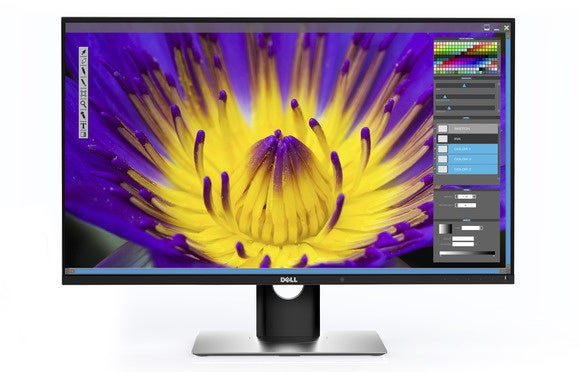 Dell's UltraSharp 30 uses an OLED 4K panel. Credit: Dell
Let the 4K OLED monitor wars begin. Dell formerly unwrapped its first OLED panel Wednesday morning at the Consumer Electronics Show in Las Vegas.
Promising true black levels, off the hook contrast levels, and gorgeous colors, the Dell UltraSharp 30 UP3017Q brings the OLED magic at a price that's actually a bargain for an OLED UltraHD 4K panel—it's $4,999.
That may seem like the price of a used car, but when you consider the only other 30-inch UltraHD 4K panel that we know of is the studio-grade Sony BVMX300 at $18,000, maybe it's not so bad. To be fair to Sony, its panel is an HDR monitor.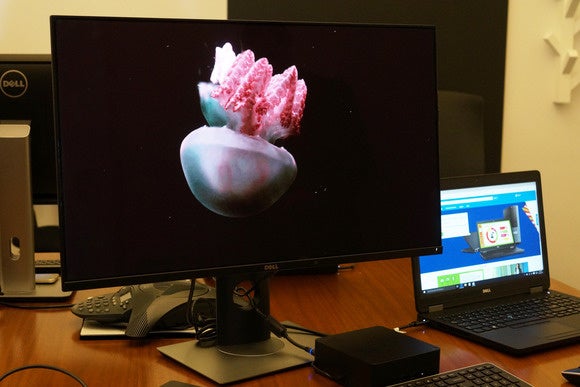 Dell's new UltraSharp is an almost affordable OLED monitor that pushes UltraHD 4K resolution and supports charging laptops through USB-C too. Credit: Gordon Mah Ung
The Dell is certainly no slouch though. It can display 1.07 billion colors, has a 400,000:1 contrast ratio and response time of 0.1ms. The UP3017Q is rated at 100 percent of the AdobeRGB color space and can hit 97.8 percent of the DCI-P3 color space. DCI-P3 is the color space used exclusively for cinema today.
Unlike conventional monitors that use LEDs or fluorescent tubes to light them, organic light emitting diodes or OLEDs create their own lighting. This allows OLED displays to be thinner and smaller while offering superb black levels and contrast levels. OLEDs have been in use in phones for years and high-end televisions more recently, but so far haven't dipped to consumer displays. You can argue consumer OLED displays still haven't, since the UP3017Q isn't aimed at gamers or casual users. Dell expects it to mostly cater to professionals.
Burn-in?
The company said it has built in special features to compensate for two weaknesses of OLED. The first is image retention, where a static image that has been on the screen too long "burns in" to the screen. Dell said the UP3017Q uses a pixel-shifting feature to reduce the chance of burn-in.
The other problem with OLED panels is a shorter life span due to the organic layer breaking down over time. Dell said the UP3017Q features a "presence" detector to tell when you're in front of the monitor or not, and switch off the display when you aren't.
It's not just about the fancy OLED screen, though. Dell said it has integrated USB-C Power Delivery into the new monitor so you can run the display and power your laptop through a single USB-C cable. If you're still champing at the bit to see just how gorgeous this OLED looks on your desk, you'll have to wait a bit longer. The new Dell OLED panel won't go on sale until March 31.