Deep-dive Q&A: Behind the scenes of Obduction, Cyan's move beyond Myst
We visited Cyan's offices in Washington and picked their brains about Obduction, a crowdfunded spiritual success to Myst.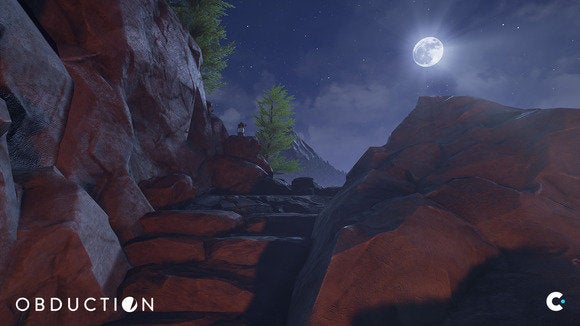 After PAX ended this year I made the four-hour drive from Seattle to Spokane to meet up with the team over at Cyan, famous for making the PC gaming classics Myst and Riven. I got to see a very early look at Obduction, a game "that harkens back to the spirit of Myst" and was Kickstarted to the tune of $1.3 million--a preview you can read here.
I got a peek at the fabled "Myst Vault" too--a physical trove dedicated to Myst history and general Cyan knowledge. It was insanely cool, and I took plenty of pictures.
But I also got to just sit and chat with the team for almost three hours. We talked about a lot of stuff that doesn't really fit into an article per se--but it's stuff that's still interesting in general and especially intriguing if you're an old Myst fan. Thus, this... thing.
It's not really an article, because I'm not going to comment on every little thing. However, it's also not really an interview transcript because it leaps around in time--trust me, you don't want to read the full 40-page transcript I wrote out. This is just the cool stuff.
It's disorganized. It's messy. But it's full of interesting information straight from the brains of Cyan.
On having a hidden office
VICTORIA ALMOND (VA), PR and QA at Cyan: We're about to be revealed to the public with our sign.
RAND MILLER (RM), Co-founder: Oh that's right, we've never had a sign.
VA: We had this white square with 14617 on it.
RM: That's been our sign for...however long we've been here. Since Riven.
VA: 19 years. Yeah, it's been a while.
RM: We have people...the building's too big for us now. We've rented out other portions.
PCWORLD: Yeah, I noticed there are six or seven different companies here when I came in.
RM: There weren't for a long time, but now it helps because renting out portions of it helps pay the bills.
Designing Obduction
Am I seeing super-secret Obduction stuff on this whiteboard over here?
VA: Should we close that?
RM: Nah. Yeah, that's super secret Obduction stuff. [Laughs, then does a double-take] That actually...that is actually super-secret. That's some of the key gameplay towards the end that we just changed.
It's good they're here [gestures at others in the room] because what we do is, the guy Richard [Watson] who just left, he and I are sort of the first front of design. We plow through and sort of get at least this big-picture, then we start digging down. Then what we do is we present to the whole team, and then they have the chance to mull it over without us in the room, and it's kind of like "Put down your ego time."